Ask enough data professionals to identify common realities about analytics, and you're likely to experience déjà vu. Certain themes come up over and over.
We have summarized some of the key issues, as well as comments we're hearing from analysts, data scientists, and others struggling to maximize the value of big-data.
It's challenging to work with inconsistent data sources. It can be difficult, time-consuming, or both to aggregate data in an efficient way. Collecting and analyzing massive amounts of data from sources such as social media, social media monitoring reports, paid media, and site side traffic reports can reveal interesting and useful patterns. However, we still lack the ideal tools to select, combine, and visualize these disparate datasets easily, as well as to perform simple queries and selections to allow meaningful data analysis.

An associate media director in New York put it this way:

Pulling all that data together takes time, often as much as 10 hours -- and aggregating seven or eight sources of data is not a sexy job. It's not fun. We need better ways to quickly import various data sources and create the charts and visualizations that will drive decision making. And in the meantime, we have to decide whose job is it to do this aggregation. You don't want to give the task to a high-level employee, but do you really trust an intern to do it unless you have a human-errorproof template in place?

Not all data is created equal. Each data source has its own biases and deficiencies. To make optimal use of that data, you have to understand the methodology behind it. You have to ask, "How is the data collected, and is it biased toward a specific perspective?"

Take panel data, for instance. A company may recruit Web participants, who install a piece of software that tracks all the person's browsing behavior and reports it to the company running the panel. In addition, the participants are usually asked to self-report demographic, salary, educational, and other personal information. But since almost all businesses, universities, and other institutions ban monitoring software (because of security and privacy concerns), most monitored behavior comes from home users. And users are often enticed to install monitoring software in exchange for sweepstakes entries, downloadable screensavers and games, or nominal sums of money. The type of people who participate in the panel may cause a bias in the data.

An oil and gas analyst in Bismarck, N.D., told us:

There's no shortage of data. The challenge is finding the best data to meet your objective. To do that, you have to understand exactly how the data is collected and understand both the sample size and sampling bias of the data reported to you. If you're comfortable with what you find, then and only then should you use the data.

Average people can be hugely influential. One person can have a surprisingly broad impact on companies and brands -- for good or bad. In his book The Tipping Point, Malcolm Gladwell dubbed the people who like to pass along knowledge "Mavens" and the sociable personalities who bring people together "Connectors." Someone who can do both is even more valuable, because that person has a large sphere of influence and higher social currency (or influence in the social media sphere). You need to understand the new metrics of social networking. It is possible to measure the connections and influence of average people, and perceptive companies and brands put their money where these mouths are -- on blogs, forums, and social media sites.

Brian Solis, principal analyst at the research-based advisory firm Altimeter Group and the author of The End of Business as Usual, wrote in a Forbes blog post:

Today's biggest trends -- the mobile Web, social media, gamification, real-time data -- are changing the consumer landscape. Average people are empowered and influential.

Too much data can make you lose focus. Extraneous data can divert your attention from key performance indicators (KPIs), which support management decision making. In addition, all levels of an organization can use KPIs to measure success in achieving stated outcomes. The challenge is to identify the high-value data that supports each KPI without shifting attention to a secondary performance indicator. In other words, you have to make sure what you are measuring is a true indication of the values you wish to monitor.

Say your objective is to assess qualified traffic on a Website by looking at the average time spent on the site and the number of page views and uniques. If that's the case, it's important to focus on key pages driving the majority of traffic and where traffic is coming, from versus analyzing every single page on the site.

Stewart Pratt, director of data and analytics at SapientNitro, part of the marketing and technology services firm Sapient, wrote in a blog post:

If your company has over-complicated data and analytics, it's time to take a step back, simplify, and reassess. Marketers [or executives of the companies that hire them] must put a few stakes in the ground -- business objective-setting -- from which they will be able to back into a few KPIs or metrics to support their goals.

More Blogs from Noreen Seebacher

22
US government experts still do not agree on a definition for big-data.

33
Peter Diamandis, CEO of the X Prize Foundation, told attendees at a SAS Health Care & Life Sciences conference that human immortality is within reach.

38
You won't help your business by calling your customers sluts on Facebook.

21
Experts disagree about the merits of investing in what you know.

14
Sometimes it pays to invest in intuition, as this mock portfolio demonstrates.
Latest Archived Broadcast

Companies today must be analytically agile to compete based on their data and analytics.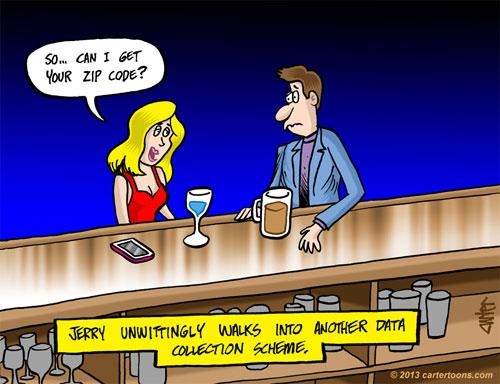 CARTOON ARCHIVE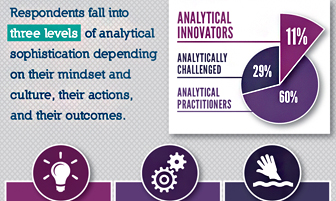 FULL INFOGRAPHIC | ARCHIVES
On-demand Video with Chat

Analytics-fueled data visualizations can be a real game-changer when you're exploring the data and assessing results.
Have a question or topic but don't want to write a blog? Post it on our readerboards and get feedback from the community!
MORE READERBOARDS
for the Business and IT Communities

Executive forums with additional hands-on learning opportunities offered around the world
Each ideal for practitioners, Business leaders & senior executives
NYC, Boston, Philadelphia, Chicago, Minneapolis/St. Paul, Rockville, San Francisco, Los Angeles/Irvine, Dallas, Atlanta


Blog


LEADERS FROM THE BUSINESS AND IT COMMUNITIES DUEL OVER CRITICAL TECHNOLOGY ISSUES

The Current Discussion
The Issue:
Data visualization is an up-and-coming technology for businesses that want to deliver analytical results in a visual way, enabling analysts the ability to spot patterns more easily and business users to absorb the insight at a glance and better understand what questions to ask of the data. But does it make more sense to train everybody to handle the visualization mandate or bring on visualization expertise? Our experts are divided on the question.
The Speakers:
Hyoun Park, Principal Analyst, Nucleus Research; Jonathan Schwabish, US Economist & Data Visualizer
MORE POINT/COUNTERPOINT BLOGS