Data visualization has become a red-hot analytics topic of late, but for Ford Research & Advanced Engineering's data science team, it's long been standard fare. That makes Mike Cavaretta, technical leader for predictive analytics there, the perfect go-to guy for advice on exploring and presenting data visually.
"Our perspective is that data visualization techniques add so much that it's really important in a data science effort to be able to use these techniques," Cavaretta told attendees of our live video chat on visual analytics yesterday.
A visualization can help a lot. Just plotting things on a timeline can give you an idea of "are you hitting the peaks, are you hitting the valleys, are you hitting the trends in the data" -- how well the model is working that you just can't get from a simple statistic like an error rate or an R-squared or something like that.
Visualizations also help tell stories about the data, he added:
How do you synthesize what you have and show your conclusions in an easy-to-understand way? How do you present that to people who aren't statistically savvy, per se, but know data, understand data, and have a really good feeling for the business? That's really the key piece for us.
Below are five tips on working with data visualizations that Cavaretta shared during yesterday's video chat, which you can listen to on demand,
here
.
Start small: "Have some really good prototypes from really good proofs of concept," suggested Cavaretta, noting that starter data visualization software is readily available from companies like QlikView, Tableau Software, and Spotfire. Buy a single seat, do some experimentation, and show people the results and how dynamic the presentations and the data can be. Or do the same using the open-source R statistical tool. That'll take a bit more effort, though, since you'll need to do some programming, he cautioned.
Know your audience: Some people will have the time and ability to understand data visualizations and others won't. It behooves you to figure out which type of group you're presenting results to before you decide to package those visually. Ideally, the group will understand the data you have and have the time to sit through an animation of it, à la the dynamic visualizations at Gapminder, and so you can make your presentation interactive and iterative.

"That's the one that we'd rather do," Cavaretta said. "Those are the better presentations -- people are engaged, they can ask questions, and we can slice and dice on the fly." However, sometimes you'll only have 10 minutes at a board meeting to explain a complex project in a way that directors are sure to understand. Working with dynamic data visualizations might not be the best choice in such circumstances.

Don't assume a visual presentation is always best: When you're getting ready to share results, think about whether you really want to present your data visually or whether a textual narrative would be better. If you're making recommendations, stating "to meet your cost targets, you need to remove 10 cents from every part" may provide greater clarity than trying to show that through data visualization. "For the most part... you're not going to be able to be dynamic and have that narrative there. That's the piece that we've found really, really important."
Watch out for complexity: "The complexity of the visualization is sometimes very, very tempting -- being able to have something that puts everything together in one chart, one big graphic, so you're showing the distribution, you're showing the forecast, you're showing the six different variables you think are going to drive what's going to happen in the future," Cavaretta said. You and your team might understand what's going on in the visualization perfectly well, but "for somebody who hasn't lived with the data for the past two months, it can be very complex."

If you do decide to layer in lots of elements, then you'd best make a determined effort to be sure that you explain everything clearly so that everybody understands the complex visualization when you're done explaining it, he advised. The same best-practice applies to creating static infographics, he added. Maybe you don't put those four important elements into a single infographic but rather do two and two, for example.

Put another set of eyeballs on your results: Cavaretta and his team members make sure they validate results among one another -- and he recommends everybody do the same. "It's not necessarily a formal process, like a code review, but it is always something where we want to make sure we have fresh eyes on whatever we send out and how we communicate our results."
How are you using data visualizations in your company? Share your best-practices below.
Related posts:

More Blogs from Beth Schultz

31
It's been a fun three years, but now it's time to say goodbye.

7
Take inspiration from Christopher Columbus as you pursue your analytical journeys.

11
The "big" in big data is no reflection of the size of the organization embracing its potential.

20
Whether you're an undergrad, a graduate student, or an analytics professional already, the same best-practices advice lives large.

11
Satellite data can help solve puzzles, from the lofty to the mundane.
Latest Archived Broadcast

Learn about trusting the cloud as a home for big data applications, best practices that you and your provide should follow.
March 24th 3pm EDT Tuesday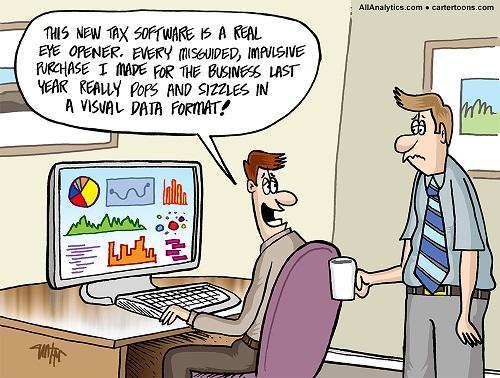 CARTOON ARCHIVE
On-demand Video with Chat

Enterprises are struggling through a major talent gap when it comes to data scientists.
A SAS Information Resource










MORE
Have a question or topic but don't want to write a blog? Post it on our readerboards and get feedback from the community!
MORE READERBOARDS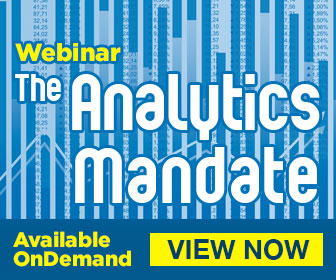 for the Business and IT Communities

Executive forums with additional hands-on learning opportunities offered around the world
Each ideal for practitioners, Business leaders & senior executives

Blog


LEADERS FROM THE BUSINESS AND IT COMMUNITIES DUEL OVER CRITICAL TECHNOLOGY ISSUES

The Current Discussion
The Issue:
Data visualization is an up-and-coming technology for businesses that want to deliver analytical results in a visual way, enabling analysts the ability to spot patterns more easily and business users to absorb the insight at a glance and better understand what questions to ask of the data. But does it make more sense to train everybody to handle the visualization mandate or bring on visualization expertise? Our experts are divided on the question.
The Speakers:
Hyoun Park, Principal Analyst, Nucleus Research; Jonathan Schwabish, US Economist & Data Visualizer
MORE POINT/COUNTERPOINT BLOGS