Is Klout an accurate marker of online and offline influence?
Some social media watchers have thought to link a Website's Klout score and its business success, as the blogger and social media scientist Dan Zarrella explains here. From an inbound marketing perspective (which is almost entirely Web- and link-based), this might make some sense. Perhaps people with higher Klout scores attract more back links to their Websites, because they supposedly are more active in social media (which is most of what Klout measures) than the average person.
In reflecting on this issue, I decided to look at Klout scores as they relate to various industries, with an eye toward correlating online and offline influence, which is what most people, up until now, considered real influence.
But first, let's acknowledge this: Any company can mask its offline influence with a concerted effort in social media, just as any Website owner could do so in years past using organic search results and search engine optimization on Google. From around 1998 until a few years ago, everyone had an equal chance of ranking high in search engines. You could use search optimization to show up next to or ahead of the big brands that typically pop up on top of search results. In the last year or two, most of that "search results" advantage has been erased through more effective brand marketing. As a result, offline and online influence are actually better represented in search results than in social media today.
To gauge how well online and offline influence match up, I compared Klout scores of the top influencer in eight industries for which both gross domestic product (GDP) and Klout scores are available. Since I could not find recent figures that break out GDP by industry, these numbers are a bit dated. However, the more important consideration for this influence exercise is industry size as a measure of contribution to the US economy -- and I think the mix is the same today as it was 10 years ago, when industry-based GDP figures were available.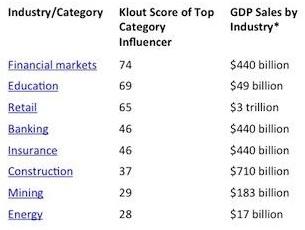 By combining these disparate indexes, we can see how little online influence seems to match up to offline influence. Drawing correlations between Klout score and offline influence is difficult. The top three category influencers by Klout score, for example, are in industries whose GDP contributions ranged from the top to near bottom. Meanwhile, the retail sector has a high Klout score and makes a large contribution to the US economy, reflecting the essential role marketing plays in this sector.
I believe the discrepancies in Klout scoring trace back to Google's desire to favor Web content in certain areas (such as entertainment, media, and education) over content from industries such as mining and energy that haven't used search engines as much. Also, Klout has not been able to scale to the longer tail of specific subtopics, such as alternative, solar, or wind energy (though it does have a renewable energy category). The larger and higher-end categories such as energy, entertainment, education, or communications are too broad to categorize anyone well.
A friend of mine likes to cook, and Klout has categorized her as a "food influencer," but that hardly describes her true interest in food and healthy living.
In fact, long-tail, granular classifications are closer to defining real offline influence. Someone genuinely interested in a subject probably does have some influence in it, however small. To build out subtopic lists such as social media measurement, Klout uses gameification to encourage users to give Klout points (K+) to others they admire, making influence further skewed toward an individual's popularity. As a result, I'm the top influencer for social media measurement, because many people give me points for it, yet my Klout score is only 50. (I'm not complaining, and perhaps this placement is accurate, for a change.)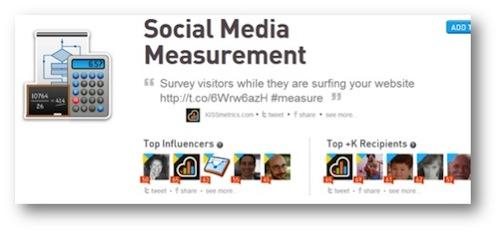 To sum up, Klout is not a measure of your or anyone else's success or true influence, despite what some pundits may claim.