A month or so ago, I had the good fortune of attending a dinner party at The Bedford, a restaurant resurrected out of a classic old bank in a 1920's era historic landmark building here in Chicago. We dined in a special room called the "Vault" -- named so because it once was, quite literally, the bank's vault.
Floor to ceiling, the interior walls of the Vault were lined, row upon row, with the bank's original copper safety deposit boxes. The old-fashionedness of the safety deposit boxes made quite a juxtaposition against the restaurant's elegantly understated, contemporary decor. Some dinner conversation naturally veered into the sentimental... Can you imagine what it would have been like to have banked here? Can you imagine what it must have been like to actually have had to go to the bank in person?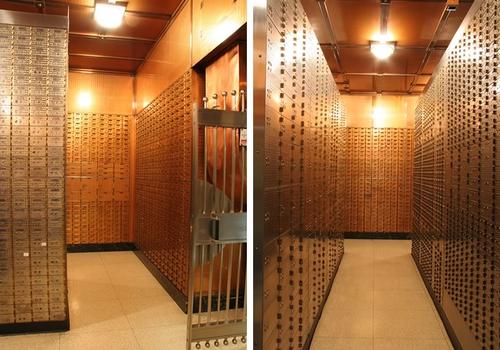 I couldn't help but to remember those safety deposit boxes and their coppery glow while talking the other day with Nell Merlino, chair of the Personal Data Independence Trust who I introduced you to in yesterday's post, It's Your Data -- Own It & Earn From It. The safety deposit box makes an apt metaphor for the safe and private repository the organization feels consumers ought to have for their own personal data. Can you imagine what it would feel like to see your valuable personal data tucked away as securely as those treasures once stored in these safety deposit boxes?
"Our data could be kept in trust, just like we've been doing for years and years with our money, important documents, and physical treasures in our safety deposit boxes. Now we need to do the same with that highly valuable thing we're all creating so much of," Merlino said.
The Personal Data Independence Trust is set up for Personal BlackBox (PBB), one of a number of companies working on various ways to give consumers control over their personal. Merlino didn't have much to share in the way of how the PBB platform will work, highly competitive as this notion of providing technology for personal data independence technology has become. Everybody has their own particular angle, but a few other players in the field include Enliken, Epic Browser, Handshake, Mydex.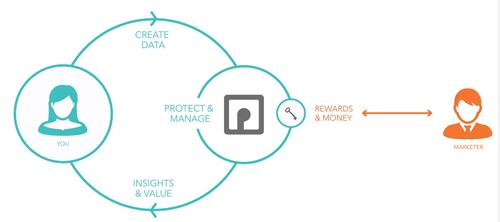 What Merlino did say is that using the PBB technology, members would be able to collect and aggregate their data "pretty fast" so they get a whole-picture look at the data they're sharing and what they have to offer. I would imagine this might be through a special front-end, a browser, for example, that feeds directly into the trust -- but I'm only speculating.
I'm speculating, too, that PBB has come up with some sort of ultra secure approach to keeping the data in trust buttoned up as tight as can be. Like with a safety deposit box, your data would live in its own receptacle incapable of being breached. Any breach, of course, would bring the trust to its knees.
What I don't have to speculate about is that business participation is essential -- the more businesses signing on, the more data members will get about themselves. This is a two-part process, and right now the data trust is busy enrolling companies to participate, Merlino said.
"None of these companies went into the data business," Merlino noted. "Having people owning their own data and offering it to them will place companies in a very different place then when they're feeling pressure to have to learn everything about consumers and not just point-of-sale data."
She puts it in terms of C2B, or consumer to business, a concept the trust will be working on better understanding through a research project at Northwestern University. The research project also will involve a big-box retailer and fast-moving consumer products good manufacturer, Merlino said. "We're really trying to appreciate what can happen when you turn [the use of consumer data] on its head and make it more of a C2B play than a B2B or B2C one."
When we're talking about C2B -- consumer to business -- trust members get to determine with which company participants they share data collected via PBB and whether they share that data by name or anonymously. "They get all the offers and relationships they want, and that's exactly what the companies want, too. They want to interact with people who want to interact with them."
So, readers, think about the business entities with which you interact on a regular basis. To which among them would you offer up your personal data, name included, to which would you be willing to share an anonymized report, and to which would you keep from knowing any information about yourself if you could? Please share your thoughts below.
— Beth Schultz,

, Editor in Chief, AllAnalytics.com
Related posts: