Big-data privacy has been a much-discussed topic here at AllAnalytics.com, as well it should be. With the promise, as they say, comes the peril -- for consumers and companies alike.
Rebecca Herold, an information privacy consultant and principal at Rebecca Herold & Associates, will be joining us today at 3:00 p.m. ET for an interactive e-chat on big-data privacy. In an email interview, Herold pointed out three of her top concerns surrounding big-data privacy:
The first speaks to the use of de-identified data, such as we see around big-data analytics aimed at determining human activities, trends, and characteristics for health and other purposes. "When you take vast amounts of data, even when they have been de-identified or anonymized, and you start performing increasingly sophisticated analysis on them, you can reveal many types of personal information through the resulting correlations," she warned.
The second relates to potential legal violations, such as state, federal, and contractual requirements. Organizations may even end up violating their own privacy policies with the information revealed through big-data analytics.
The third concern looks at the future and what happens as analytics capabilities get more and more sophisticated. "Looking forward, as big-data accumulates, it is going to become more and more easy, through increasingly sophisticated analytics, to determine intimate details about individuals even without the commonly thought of personal information data such as name, Social Security number, birth date, etc."
Herold said she has other concerns, but noted these for laying "the privacy risk groundwork."
She offered this advice for consumers: "Ask businesses and other organizations why they need so much information." As an example, she pointed to the increasingly common practice of downloading apps to smartphones and other devices.
If you want to download a "free" app, and it asks for your birthday, street address, etc., ask why such personal information is necessary. Or, give bogus information if possible and appropriate. If you are downloading something that is "free" for fun and you don't really need it to live, then giving a fake address, birthday, etc., will help to protect your real personal information. It will also help you to see if those organizations are sharing your information with others.
Companies, too, must question themselves about the hows and whys around their big-data use, Herold said. For example, if a company is using de-identified data, it must understand what that means not only to itself but also to business partners with whom it might share the data for analytics purposes. A company also must be sure to implement big-data use policies and work with information privacy and compliance officers in doing so.
We'll delve more into the consumer and corporate ramifications of big-data use from the privacy perspective during this afternoon's conversation with Herold. Join us here at 3:00 p.m. ET today.

More Blogs from Beth Schultz

0
As analytical people, we turn to the data to help us make sense of bad weather -- but don't always like what we learn.

4
We honor eight years of YouTube with a random collection of videos on data.

18
Randy Bartlett, author and longtime business analytics leader, shares his views on the analytically smart organizational structure.

26
UPS should be as famous for its longtime commitment to business analytics and its analytics culture as it is for package delivery.

31
Patient engagement advocate Dave deBronkart encourages everyone to take ownership of their own and their family's medical data.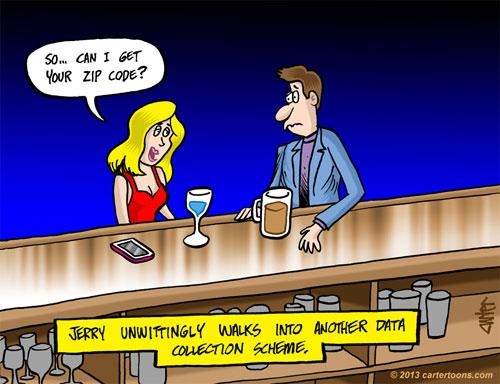 CARTOON ARCHIVE
Latest Archived Broadcast

Companies today must be analytically agile to compete based on their data and analytics.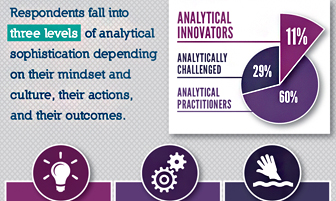 FULL INFOGRAPHIC | ARCHIVES
On-demand Video with Chat

Analytics-fueled data visualizations can be a real game-changer when you're exploring the data and assessing results.
Have a question or topic but don't want to write a blog? Post it on our readerboards and get feedback from the community!
MORE READERBOARDS
for the Business and IT Communities

Executive forums with additional hands-on learning opportunities offered around the world
Each ideal for practitioners, Business leaders & senior executives
NYC, Boston, Philadelphia, Chicago, Minneapolis/St. Paul, Rockville, San Francisco, Los Angeles/Irvine, Dallas, Atlanta


Blog


LEADERS FROM THE BUSINESS AND IT COMMUNITIES DUEL OVER CRITICAL TECHNOLOGY ISSUES

The Current Discussion
The Issue:
Data visualization is an up-and-coming technology for businesses that want to deliver analytical results in a visual way, enabling analysts the ability to spot patterns more easily and business users to absorb the insight at a glance and better understand what questions to ask of the data. But does it make more sense to train everybody to handle the visualization mandate or bring on visualization expertise? Our experts are divided on the question.
The Speakers:
Hyoun Park, Principal Analyst, Nucleus Research; Jonathan Schwabish, US Economist & Data Visualizer
MORE POINT/COUNTERPOINT BLOGS