For many business, data, and IT professionals, certification gives rise to a conundrum, a real puzzler over value. Does the time and effort pay off?
AllAnalytics.com bloggers Matthew North and Scott Larsen weigh in on this age-old question in this week's Point/Counterpoint debate blogs. Community members have jumped in with their opinions, too. For example, @PredictableChaos writes on the AllAnalytics.com message board: "For data mining, my view is the certificate usually doesn't add much real value." And @YourRetailGuru tweeted, "Nope [no certifications]. Just years and years of practice!!" AllAnalytics.com blogger Maryam Donnelly is in the minority in her response to our related Quick Poll, Analytically Certified: "Yes, I have some certifications in market research." Preliminary results of that poll show that most readers do not have professional certification.
The truth is that you can find an opinion that backs whatever stance you favor. Search all you want; a definitive answer will elude you. What you can find, though, is advice on why you might consider getting a certification, when to do so, and where. In the community spirit, we invite you to participate in a conversation on certifications Friday, Nov. 30, at 1:00 p.m. ET. North, associate professor of computing and information studies at Washington & Jefferson College, and Larsen, founder of Better Place Consulting, will be on hand to share their personal experiences and perspectives from the academic, consulting, and corporate worlds. (As analysts, North worked with eBay, and Larsen with Google.) Join us in this interactive e-chat, and get the advice you need for this important (or not) career decision.
Particularly as companies scramble to fill analytics and data roles to meet growing big-data demand, the value of certifications is sure to be a topic rehashed time and time again. Get a jump on your decision by talking to your peers tomorrow. In the meantime, flip through this slideshow (click on the image below to begin) to get a quick sampling of some of the myriad types of analytics, business intelligence, and data mining certifications you might pursue.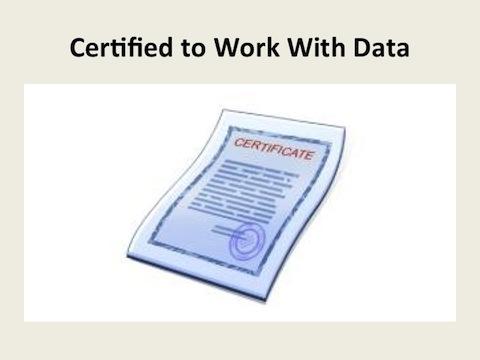 More Blogs from Beth Schultz

4
We honor eight years of YouTube with a random collection of videos on data.

18
Randy Bartlett, author and longtime business analytics leader, shares his views on the analytically smart organizational structure.

26
UPS should be as famous for its longtime commitment to business analytics and its analytics culture as it is for package delivery.

31
Patient engagement advocate Dave deBronkart encourages everyone to take ownership of their own and their family's medical data.

15
Randy Bartlett, author and seasoned analytics professional, will join us this Friday, May 17, at 2:00 p.m. ET for a radio show on ensuring organizational change for the good of business analytics.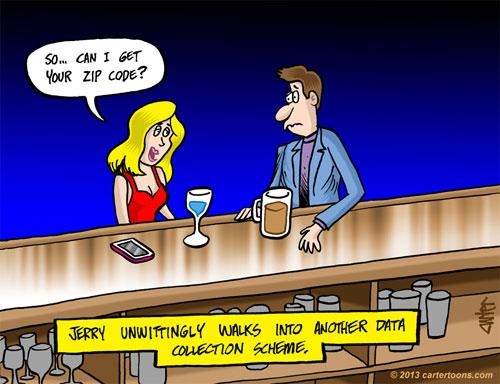 CARTOON ARCHIVE
Latest Archived Broadcast

Companies today must be analytically agile to compete based on their data and analytics.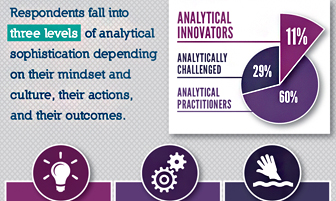 FULL INFOGRAPHIC | ARCHIVES
On-demand Video with Chat

Analytics-fueled data visualizations can be a real game-changer when you're exploring the data and assessing results.
Have a question or topic but don't want to write a blog? Post it on our readerboards and get feedback from the community!
MORE READERBOARDS
for the Business and IT Communities

Executive forums with additional hands-on learning opportunities offered around the world
Each ideal for practitioners, Business leaders & senior executives
NYC, Boston, Philadelphia, Chicago, Minneapolis/St. Paul, Rockville, San Francisco, Los Angeles/Irvine, Dallas, Atlanta


Blog


LEADERS FROM THE BUSINESS AND IT COMMUNITIES DUEL OVER CRITICAL TECHNOLOGY ISSUES

The Current Discussion
The Issue:
Data visualization is an up-and-coming technology for businesses that want to deliver analytical results in a visual way, enabling analysts the ability to spot patterns more easily and business users to absorb the insight at a glance and better understand what questions to ask of the data. But does it make more sense to train everybody to handle the visualization mandate or bring on visualization expertise? Our experts are divided on the question.
The Speakers:
Hyoun Park, Principal Analyst, Nucleus Research; Jonathan Schwabish, US Economist & Data Visualizer
MORE POINT/COUNTERPOINT BLOGS