As we bring 2012 to a close, many have declared this as the year of big-data and big-data analytics. As exciting as that may seem for all you data lovers, don't get out your party hats and noisemakers just yet.
With all the hoopla surrounding big-data in 2012, you just know the balloons are going to start popping -- and soon. Next year, in fact, predicts the International Institute for Analytics (IIA), an analytics research firm.
"Big-data basically meets organizational reality in 2013," said Ravi Kalakota, IIA faculty member and partner at LiquidHub, a global management and technology consulting firm.
On Tuesday, Kalakota and a handful of other IIA faculty members revealed the organization's eight analytics predictions for 2013. They are as follows.
The big-data bubble bursts. "We expect many of the startups that were funded by venture capitalists to run out of customers and revenue, leading to mergers, acquisitions, and outright failures," said Sarah Gates, vice president of research quality at IIA. The shakeups and shakeouts will be typical of what we see happen in an emerging technology market, Kalakota said. Many big-data startups -- he said he's heard that 360 such companies launched in the past year -- are trying to cross the chasm between experimental and production deployments. "But we're seeing a stall in the market... and when there's a stall, that puts startups at tremendous disadvantage." Watch for fallout on the vendor side, too, said Tom Davenport, IIA research director and well-known business analytics author and advocate (and AllAnalytics.com blogger).
Cross-industry cooperation thrives. This prediction is about merger and acquisitions within industries rather than across industries, as we'd see relative to the first prediction. "These are forming to exploit new market opportunities that are significantly facilitated by the new data that's available to the enterprise. These are big players, and these are disruptive innovations," said Dwight McNeill, IIA faculty member and president of WayPoint Health, a healthcare analytics consulting firm. This is about grocery stores getting into banking, as in the case of UK chain Tesco and Tesco Bank, and drugstores getting into healthcare benefits, as we've seen with CVS Caremark, he said.
Small analytics teams spring up. No doubt, the shortage of data scientists persists in 2013. "That means firms will need to focus more on the composition, development, and deployment of small analytical teams rather than struggling to find the perfect data scientist," Gates said. Companies aren't going to find the requisite analytical, data management, interpersonal communication, and technology skills in a single person. So it's the aggregation of those skills in a team that will matter, Davenport added.
Data scientists lose their distinction. "At the end of the day, when you look at the types of problems you're asking these people to solve, they really do fall into the province of statistics and other quantitative methods. You're dealing with data, and you're wanting to handle the uncertainty in that data, and to make predictions and to anticipate the future," said IIA faculty member Anne Milley, senior director analytic strategy, product marketing, at SAS (this site's sponsor). The lines blur, too, as technical people get experienced using large, messy, unstructured datasets. "They can encroach on the data scientist territory from that end," added Bob Morison, IIA faculty member and consultant. And as traditional business analysts gain experience with sophisticated analytics toolsets, the lines will blur there, too.
Customer-driven analytics transcends product-driven analytics. "We're seeing an acceleration in the evolution from multiple channel to cross channel to omni channel, or what you would call cross cutters," Kalakota said. This is about capturing insights on those customers standing in your place of business, product in hand, but surfing on their smartphones and making the purchase online, for instance. "Increasingly we are seeing analytics as the mechanism for making that happen."
Companies get smarter about machine learning. In other words, companies are going to figure out which applications of machine learning have the greatest return, said Gates, noting that this is taking place in retail, for example, with pricing optimization. Big-data forces this issue, "simply because we can't churn through all that data without having machine learning," Davenport added.
Insight gets more visual. With big-data comes the need for more interactive, dynamic data visualizations -- something that today's tools are getting better at delivering, Milley said. Data visualization helps not only in the analytics discovery process -- spotting patterns in the data, for example -- but also when presenting the information to the business.
High-profile data breaches drive development of predictive analytics for security. Detecting the source of data breaches has always been tough and will only get tougher as perpetrators get more sophisticated, Davenport said. It's time to bring in the predictive analytics.
Davenport said he hopes he's wrong about this last one -- as do I. How about the rest of you? Which do you think IIA has gotten right, and which ones don't make sense to you?

More Blogs from Beth Schultz

31
It's been a fun three years, but now it's time to say goodbye.

7
Take inspiration from Christopher Columbus as you pursue your analytical journeys.

11
The "big" in big data is no reflection of the size of the organization embracing its potential.

20
Whether you're an undergrad, a graduate student, or an analytics professional already, the same best-practices advice lives large.

11
Satellite data can help solve puzzles, from the lofty to the mundane.
Latest Archived Broadcast

Learn about trusting the cloud as a home for big data applications, best practices that you and your provide should follow.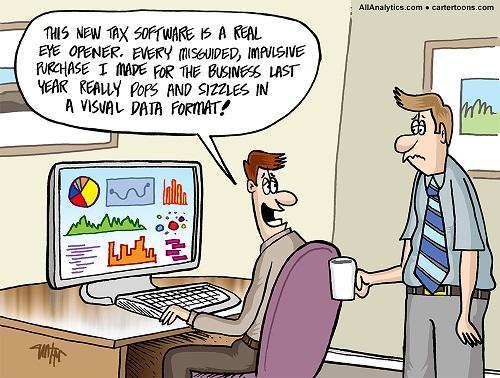 CARTOON ARCHIVE
On-demand Video with Chat

Enterprises are struggling through a major talent gap when it comes to data scientists.
A SAS Information Resource










MORE
Have a question or topic but don't want to write a blog? Post it on our readerboards and get feedback from the community!
MORE READERBOARDS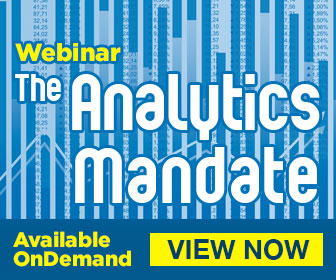 for the Business and IT Communities

Executive forums with additional hands-on learning opportunities offered around the world
Each ideal for practitioners, Business leaders & senior executives

Blog


LEADERS FROM THE BUSINESS AND IT COMMUNITIES DUEL OVER CRITICAL TECHNOLOGY ISSUES

The Current Discussion
The Issue:
Data visualization is an up-and-coming technology for businesses that want to deliver analytical results in a visual way, enabling analysts the ability to spot patterns more easily and business users to absorb the insight at a glance and better understand what questions to ask of the data. But does it make more sense to train everybody to handle the visualization mandate or bring on visualization expertise? Our experts are divided on the question.
The Speakers:
Hyoun Park, Principal Analyst, Nucleus Research; Jonathan Schwabish, US Economist & Data Visualizer
MORE POINT/COUNTERPOINT BLOGS