With Christmas just one week away, many of us are scrambling to find those last oh-so-perfect gifts for family and friends. If you've got a data lover on your list, we have just thing for you.
Click on the image to start our "What to Give a Data Lover 2012" slideshow.
Let us know -- what's on your holiday wish list? Data lover that you are!

More Blogs from Beth Schultz

4
David Burg, PwC cybersecurity lead, provides advice on how to approach the challenge of building a privacy-aware big-data strategy.

2
Don't let the obvious mess up your modeling projects. Try these tips from Dean Abbott, predictive analytics expert.

4
Steve Escaravage, longtime health data scientist, lays out the opportunities and challenges of patient-generated data.

2
An Accenture Interactive study shows a big bump in consumer Internet of Things device use by 2015.

0
Dean Abbott, internationally recognized data mining and predictive analytics expert, will join us Wednesday, Aug. 20, at 1:00 p.m. ET, for an A2 Radio episode on the art of predictive modeling.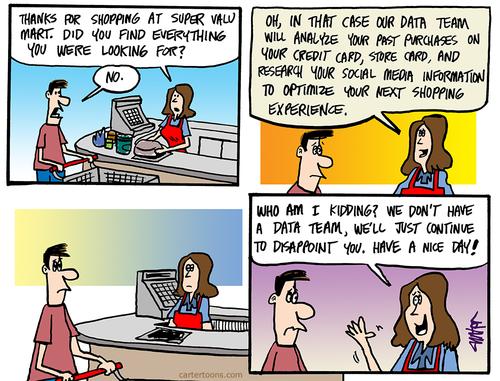 CARTOON ARCHIVE
Latest Archived Broadcast

Dean Abbott, internationally recognized data-mining and predictive analytics expert, will lay out principles and techniques for applying predictive analytics.
August 26th 2pm EDT Tuesday
September 9th 3pm EDT Tuesday
September 15th 2pm EDT Monday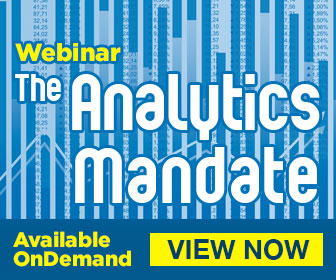 A SAS Information Resource










MORE
Have a question or topic but don't want to write a blog? Post it on our readerboards and get feedback from the community!
MORE READERBOARDS
for the Business and IT Communities

Executive forums with additional hands-on learning opportunities offered around the world
Each ideal for practitioners, Business leaders & senior executives
On-demand Video with Chat

As retailers evolve toward an omnichannel environment, much of their success will depend on how effectively they use big-data and analytics.


Blog


LEADERS FROM THE BUSINESS AND IT COMMUNITIES DUEL OVER CRITICAL TECHNOLOGY ISSUES

The Current Discussion
The Issue:
Data visualization is an up-and-coming technology for businesses that want to deliver analytical results in a visual way, enabling analysts the ability to spot patterns more easily and business users to absorb the insight at a glance and better understand what questions to ask of the data. But does it make more sense to train everybody to handle the visualization mandate or bring on visualization expertise? Our experts are divided on the question.
The Speakers:
Hyoun Park, Principal Analyst, Nucleus Research; Jonathan Schwabish, US Economist & Data Visualizer
MORE POINT/COUNTERPOINT BLOGS