If you know anything about the history of data visualization, Edward Tufte is a name you'll readily recognize. If he's your source of inspiration, then you ought to be in good hands.
A statistician and Yale University professor emeritus of political science, statistics, and computer science, Tufte is known as a supreme master of the art (and science) of delivering information visually. He's inspired many of today's data visualizers, among them Jonathan Schwabish, a US economist who says he considers Tufte the "godfather of modern data visualizations." For him, a one-day Tufte workshop turned into an eye-opening experience on how "we can use graphics and data visualization in a more strategic way and a way in which we can show our data in clearer and more innovative ways."
Since then, Schwabish has been putting what he's learned into his work, creating data visualizations in his role as a policy analyst. "I put those things into practice, and keep thinking about ways and better ways in which we can present our data," says Schwabish, who now runs his own workshops about visualizing and presenting data for people in public policy.
here
on AllAnalytics.com. I've included four takeaways below. Watch the video for the full rundown!
Know the differences between exploratory and explanatory data visualizations. Interactive data visualizations, those available through a web interface, for example, can be exploratory or explanatory in nature. Exploratory interactive visualizations encourage users to go into the data and play around with it, maybe even coming up with their own conclusions from it, Schwabish said. In explanatory visualizations, the data visualization "tells a story and the interactivity is leading you down that path."

Static visualizations are explanatory in purpose, too, since the user doesn't have the capability of working with the data or playing with the graphics. Static data visualizations include your basic bar charts and pie charts, as well as those towering infographics -- compilations of text, graphics, and images that have become so popular today. (View our own latest such data visualization, 3 Levels of Analytical Sophistication, and see one of Schwabish's below.)

Devote time to plotting out the infographic. Don't give short shrift to the amount of time needed to think about how to present and tell the story of your data, said Schwabish, adding that he spends about 70 to 80 percent of his time laying out his story for the larger infographics he creates. "I'm in an analog world here, actually sketching with pen and paper and colored pencils." Then you can move into the graphics software.


Understand what your audience wants. While you might gravitate toward wanting to create the fun and fancy type of data visualization, don't do it if it serves no purpose for your audience. For example, Schwabish mostly prepares static data visualizations because he's trying to provide members of Congress and their staffs the bottom-line, statistic, or headline piece of information. "At this point, I'm not sure my audience is really interested in an interactive infographic where they have to weave and explore and click -- that's not my audience." The standard static data visualization serves as much purpose as the interactive one for the right audience.


Deliver insight. Regardless of type, data visualizations ought to give users fresh insight. "If you can give your users insight that they may not have gotten from some other means, be it the written report, some other website, or some other source, that, I think, is a successful visualization."
I would agree. How about you?
All Analytics will be continuing our ongoing series of video chats on data visualization next week, when business intelligence consultants Tricia Aanderud and Ben Zenick join us for a conversation on how to create great data visualizations. You'll find us on Facebook next Wednesday, June 5, at 2:00 p.m. ET. I hope you can tune in!
Related posts:

More Blogs from Beth Schultz

4
This infographic explores the relationship between our brains and artificial intelligence analytics.

25
Tom Davenport, analytics thought leader, suggests you think again.

2
Planning for SAS Global Forum 2015 is well under way, and the Call for Content is now open.

11
National advocacy organization the Data Quality Campaign has recommendations for how state education agencies can better safeguard student data.

13
Analytics thought leader Tom Davenport joins us Tuesday, July 22, at 2:00 p.m. EDT, to explore what the sports industry and other businesses can learn from each other.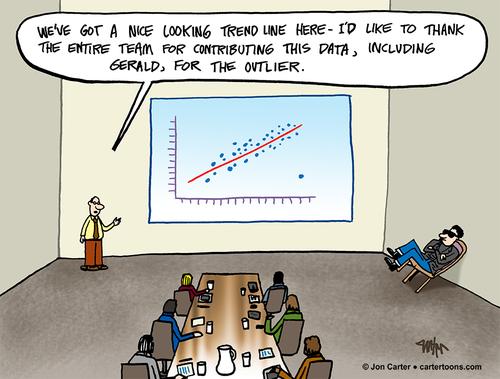 CARTOON ARCHIVE
Latest Archived Broadcast

In this A2 Radio episode, analytics thought leader Tom Davenport will take you into the worlds of business and sports, and talk about what one can learn from the other.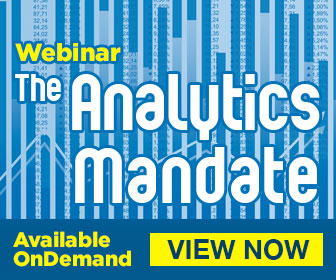 Have a question or topic but don't want to write a blog? Post it on our readerboards and get feedback from the community!
pythongeert on
Why analysts should master public speaking
MORE READERBOARDS
On-demand Video with Chat

As retailers evolve toward an omnichannel environment, much of their success will depend on how effectively they use big-data and analytics.
for the Business and IT Communities

Executive forums with additional hands-on learning opportunities offered around the world
Each ideal for practitioners, Business leaders & senior executives


Blog


LEADERS FROM THE BUSINESS AND IT COMMUNITIES DUEL OVER CRITICAL TECHNOLOGY ISSUES

The Current Discussion
The Issue:
Data visualization is an up-and-coming technology for businesses that want to deliver analytical results in a visual way, enabling analysts the ability to spot patterns more easily and business users to absorb the insight at a glance and better understand what questions to ask of the data. But does it make more sense to train everybody to handle the visualization mandate or bring on visualization expertise? Our experts are divided on the question.
The Speakers:
Hyoun Park, Principal Analyst, Nucleus Research; Jonathan Schwabish, US Economist & Data Visualizer
MORE POINT/COUNTERPOINT BLOGS