With so much data in the world, it's time to figure out how much of it is unstructured -- that which a human needs to look at in order to understand it best -- and what to do about it.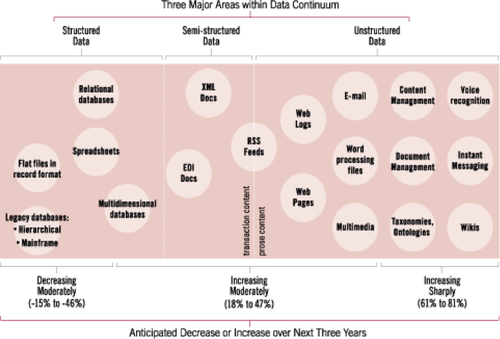 IT research firm IDC has estimated 7.9 zettabytes of digital data in the world by 2015, and I think the biggest chunk of it will come from social media generated on mobile platforms and driven from email. Intel estimates that at least 2.5 billion people will be online by 2015, generating more and more data and requiring more resources for storing and processing the data, as reported in InformationWeek. Such outlooks have led evangelist analysts to gush over unstructured data's potential; Google's Avinash Kaushik, for example, publicly claimed to have "orgasms over big, unstructured data."
How to structure unstructured data Many of us are really only getting started with unstructured data, looking for ways to get started and trying to figure out how best to handle it all. Actually, we need to ask ourselves if we should even bother to try working with it, as many previous attempts to add structure robotically have been disappointing to say the least, and fail at least much of the time. After all, dealing with and automating processes around structured data is tough enough!
Here I've put together a few things you can do with or relative to unstructured data:
Distribute the data in the cloud -- just store more of it and hope you can see useful patterns in the data with advanced big-data analytics and predictive analytics platforms.
Develop more powerful analytics engines to analyze the data, most of which will be in the cloud, in real time
Transforming dark data/dark social and ultraviolet data into useable, structured information from which you can gain insights, as I discussed in my post Putting Analytics Fragmentation Into Perspective.
Merge as much data as you can into large data files, a lesson learned by Team Obama in preparing for the 2012 election recently; merging several different databases and cleaning the data made developing predictions and gleaning insights easier.
Clean the data -- this assumes unstructured data is dirty, or not useful for analysis in its current state. You can purge duplicate information, ensure consistency in the naming of entities, and empty and sparse datasets, for example. Consider checking out Saleforce Data.com's Social Key, which ties customer data records to social media accounts and online content by those accounts. Perhaps Salesforce is on to something here; the cost of cleaning data might be shared, as the data a company is able to clean for its own use also goes back (the part that can be shared) to the overall Data.com repository in Salesforce's cloud.
Working with unstructured data won't be easy -- but it will be necessary. What advice do you have for working with unstructured data? Share below.

More Blogs from Marshall Sponder

7
When the data we don't know is as important as the data we do, our analytics platform are all but guaranteed to fail us.

11
Segmentation, multichannel integration, and intelligent dashboard reporting are vital capabilities, yet many business analytics solutions fall short.

11
Social media is playing an important role in politics, but determining a victor based on what's happening out there isn't so easy.

10
Experts gathered at a conference to share the latest in this niche analytics technology.
Latest Archived Broadcast

Learn about trusting the cloud as a home for big data applications, best practices that you and your provide should follow.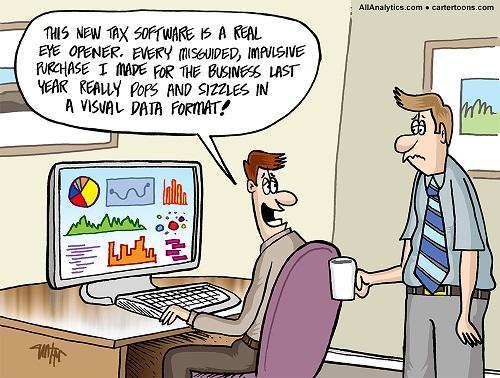 CARTOON ARCHIVE
On-demand Video with Chat

Enterprises are struggling through a major talent gap when it comes to data scientists.
A SAS Information Resource










MORE
Have a question or topic but don't want to write a blog? Post it on our readerboards and get feedback from the community!
MORE READERBOARDS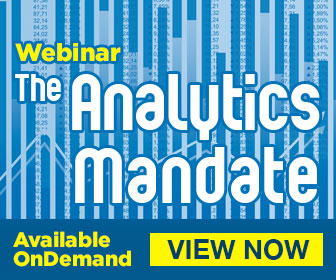 for the Business and IT Communities

Executive forums with additional hands-on learning opportunities offered around the world
Each ideal for practitioners, Business leaders & senior executives

Blog


LEADERS FROM THE BUSINESS AND IT COMMUNITIES DUEL OVER CRITICAL TECHNOLOGY ISSUES

The Current Discussion
The Issue:
Data visualization is an up-and-coming technology for businesses that want to deliver analytical results in a visual way, enabling analysts the ability to spot patterns more easily and business users to absorb the insight at a glance and better understand what questions to ask of the data. But does it make more sense to train everybody to handle the visualization mandate or bring on visualization expertise? Our experts are divided on the question.
The Speakers:
Hyoun Park, Principal Analyst, Nucleus Research; Jonathan Schwabish, US Economist & Data Visualizer
MORE POINT/COUNTERPOINT BLOGS