Almost every business has a Twitter account, but many fail to take full advantage of Twitter's many add-on tools. What's holding them back?
Perhaps it's just a matter of not knowing how to measure their impact and figure out how the tools contribute to their goals. Twitter solves that problem with its new Analytics for Twitter Cards service.
Twitter Cards enable users to put additional information, images, video, or even an app download in a tweet, taking it far beyond the standard 140-character limit. There are seven types of Twitter Cards:
Summary Card includes a title, description, thumbnail, and Twitter account attribution
Summary Card with Large Image features an image prominently
Photo Card puts the image front-and-center
Gallery Card highlights a collection of photos
App Card delivers a profile of an application
Player Card includes a video/audio/media player in the Twitter feed
Product Card delivers product content
For even more integration, cards can include app downloads and app-specific links ("open in Flickr," for example). The cards work through meta tags that users add to their websites. Each URL can be linked with a particular card. When a tweet with that URL goes out, the additional content shows up in the web and mobile versions of the Twitter feed.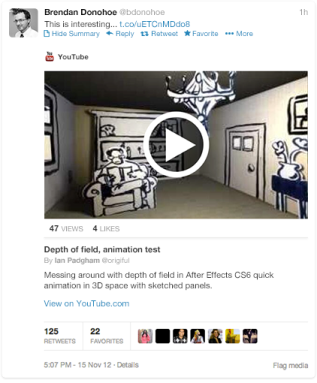 Though they have been available since last April, it's taking a while for Twitter Cards to gain traction. Ieuan Morgan, an account manager at UK-based digital agency Creative Jar, blogged in August, "Many Twitter accounts have not used a free and effective tool called Twitter cards, and these aren't even new."
Apparently, it's not enough to make free tools available, you have to show users exactly what they can do for you. The analytics for Twitter Cards dashboard tracks the performance of various types of cards in terms of clicks, retweets, and app installations; identifies the demographics of followers; and shows users how to tweak their tweets for better key metrics.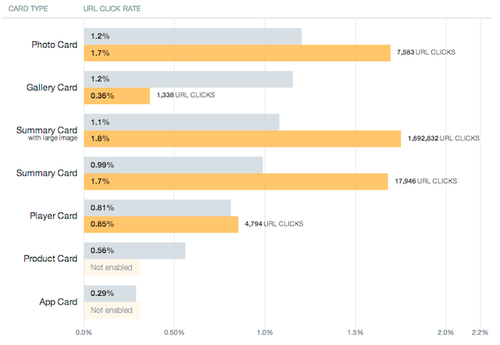 The dashboard also offers historical measurements and baseline comparisons with other users. On the basis of that data, Twitter Card Analytics can offer personalized direction for improved performance, whether the goal is to sell more products or design content for viral appeal.
Before it was introduced to the public on January 23, Twitter Card Analytics was tested on accounts like NBC News, Time Inc., ESPN, Etsy, Path, and BuzzFeed. BuzzFeed serves as the test case in Twitter's demo video and in the illustrative graph above. If you check out its Twitter feed, you will find that it uses cards extensively. About 25% of its tweets show a picture in the stream, and the rest offer an option for an expanded view with summary.
Twitter Cards seem to be working for BuzzFeed. Do you think they can work for your business?