As much emphasis as we place on business analytics today, the truth is that organizations often fail to take advantage of analytics-based advice -- let alone when it's based on big-data and predictive modeling.
Books are full of situational examples where the business ignored analytics-based advice -- with disastrous results. Even if decision makers do seem to take advice, they might not fully accept it. Researchers at Eramus Univerity in the Netherlands found decision makers adjust their initial opinions only 25 percent toward the advice and insights offered by others.
Getting people to accept your advice is hard, because it has to compete with the recipients' own ideas, advice from some of your peers, advice from people who are more senior than you, and the notion that accepting advice is risky. I offer the following advice if you don't want analytical insights to go unused.
Reduce the risk for the person taking your advice. Analytics-based advice may not be right. Unfortunately, errors occur when running analyses and when translating the analytics results into recommendations. To remove or reduce the perceived or real risk, you must have a process that eliminates or minimizes errors. You must communicate this process to your audience and, where possible, validate your insights. For example, analytics professionals should articulate the methodological strengths and weaknesses of their processes and call out what can and can't be inferred from the data and analyses.
Create alignment and ownership. Even if your audience buys your analytics-based advice, you still need to make sure something is being done with it. Two factors will promote action. The first is how strongly your advice aligns to the short-term objective of the person or team receiving it. The second is how clearly ownership of the recommended action items is defined. If the actions implied by the advice do not have a natural landing place within the firm, nobody will feel a terrible urgency to act.
Choose the right messenger. Sometimes the person who does the analytics may not necessarily be the best person to present the analytical insights. The person who does the communicating needs to be trusted and persuasive, especially when presenting to senior executives. In addition, the more the person who communicates the advice is liked by or similar to the recipients, the higher the likelihood that advice will be accepted.
Make analytical advice easy and fast to find. Accenture research showed that high-performance firms have something in common: the speed with which they get the right information in the hands of the right people. Therefore, making it easy for decision makers to find the insights is important. Decision makers need multiple exposures to insights before the intelligence and advice will stick and be remembered when the time comes for their use.
Have processes. Specifically, I recommend using a review process and a follow-through process. For example, a firm can require any chief marketing officer to have a marketing plan that contains the relevant analytical insights that support specific programs. Things come up all the time in business. For example, the manager of the team that needs to pursue the action may suddenly decide something else is more important, or the team may run into something that in hindsight is not clear, and progress is halted. To ensure the pursuit of positive impact doesn't get stuck somewhere in the firm, having a follow-up process is useful.
Leverage decision support tools. These are useful for things like resource allocation, sales force optimization, and pricing and branding decisions. Especially in situations where a lot of data needs to be reviewed in a somewhat standard fashion, an interactive tool can provide great benefits. Studies have shown that the use of interactive decision support tools can improve the efficiency and effectiveness of decisions.
These recommendations will ensure that you get more bang for your analytical buck. Please take my advice.


More Blogs from Marco Vriens
Weighing your predictive models misclassifications symmetrically, as is the norm, might lead you to a logical decision, but not an optimal one.
Availability of big-data can help with quantitative trend-spotting/early warning systems and marketing mix efficiency analysis.
How Marco's firm helped a client sort through a big-data morass.
With big-data at your disposal, you can get better analytics, validate decisions more easily, and gain faster insights. What's not to like?

A2 Conversations

Information Resources

CARTERTOONS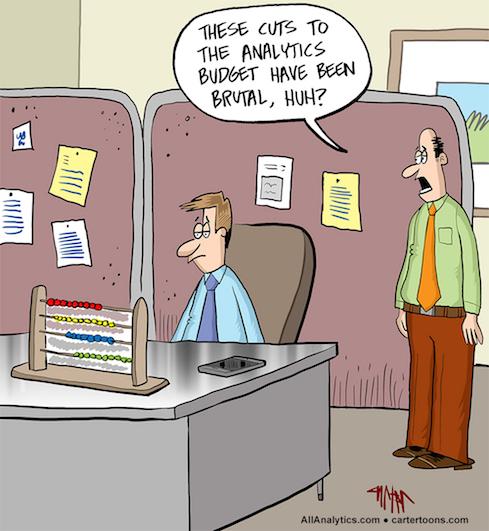 CARTERTOONS ARCHIVE

International Institute for Analytics Research Library

Quick Poll