Many people make it through statistics class without a clear understanding of the common process used for all statistical hypothesis tests. In fact, it's not unusual to complete the class without realizing there is a common process. That's not the students' fault -- most professors don't emphasize it.
Executives need accurate, relevant information that is presented simply, quickly, and clearly. They need answers to their questions, and they need to have confidence, not just in the data's message, but also in the messenger.
What happens to analysts who don't know the process and don't use it to clarify their thinking? Most often, executives just don't find those analysts persuasive. Their presentations sound too esoteric, and their answers to questions do not satisfy.
Here's a confession: I love data analysts who are full of hot air. It is so easy to disarm these windbags. All I have to do is smile sweetly, look them straight in the eye, and ask a little question -- What were your assumptions here? -- or make a simple point -- The method you've used was designed for ratio measures, but this metric is ordinal -- and it's all over. Everybody in the room understands. Don't let that happen to you. The five-step process common to every statistical hypothesis test will make your work bulletproof.
State a null and alternative hypothesis. If this doesn't seem familiar, or you are not sure of how it's done, read any introductory statistics textbook. It's in all of them.


State the assumptions that are reasonable for the application. These are conditions we believe to be true: simple random sampling, normally distributed population, and so on.


Select a test type. The type of test to use depends on what you are measuring and the assumptions you can reasonably make. Each test has its own assumptions, and you may have to comb the books carefully to find them. Make sure the assumptions fit your situation. If they don't, you've selected the wrong test.


Calculate a p value. This can be done for any type of statistical hypothesis test. The p value is interpreted the same way for all tests. Very low p values imply strong evidence against a null hypothesis. High p values represent weaker evidence against the null hypothesis -- or no such evidence at all.


State your conclusion in a simple, plain-language sentence. This one is the downfall of many a mathematical genius. State the results in terms any business person can understand, such as "Our tests show no evidence that the test coupon will outperform the coupon we are using today." Avoid sentences like "The p value was 0.12, so we failed to reject the null hypothesis."
Do you use these five steps in your work? Please share your experience.

More Blogs from Meta S. Brown

15
Data presents an opportunity for enterprises to utilize personalization. Do it right and you can win. Do it wrong and you turn off those customers.

11
Pundits and analysts feel the need to expand the original designation of volume, velocity, and variety.

14
Expert advice on finding the right combination of benefits and savings that will convince management to fund your text analytics investment.

23
A new society for data analysis professionals promises to bring new standards and ethics codes to the field.

19
Cities and towns around the world are discovering a wealth of data hidden in their documents and call records.
Latest Archived Broadcast

Join author Jared Dean for a discussion about his book, Big Data, Data Mining, and Machine Learning: Value Creation for Business Leaders and Practitioners.
February 3rd 2pm EST Tuesday
February 11th 3pm EST Wednesday
CARTOON ARCHIVE
On-demand Video with Chat

Enterprises are struggling through a major talent gap when it comes to data scientists.
A SAS Information Resource










MORE
Have a question or topic but don't want to write a blog? Post it on our readerboards and get feedback from the community!
MORE READERBOARDS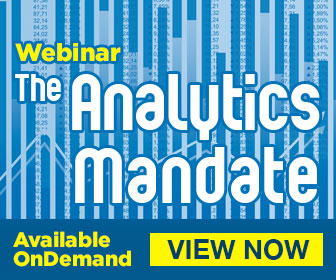 for the Business and IT Communities

Executive forums with additional hands-on learning opportunities offered around the world
Each ideal for practitioners, Business leaders & senior executives

Blog


LEADERS FROM THE BUSINESS AND IT COMMUNITIES DUEL OVER CRITICAL TECHNOLOGY ISSUES

The Current Discussion
The Issue:
Data visualization is an up-and-coming technology for businesses that want to deliver analytical results in a visual way, enabling analysts the ability to spot patterns more easily and business users to absorb the insight at a glance and better understand what questions to ask of the data. But does it make more sense to train everybody to handle the visualization mandate or bring on visualization expertise? Our experts are divided on the question.
The Speakers:
Hyoun Park, Principal Analyst, Nucleus Research; Jonathan Schwabish, US Economist & Data Visualizer
MORE POINT/COUNTERPOINT BLOGS