We've all read the articles and blogs. Many of us have experienced the issues directly -- the demand for deep analytical skills is outpacing the supply.
As evidence of this, in a period of economic slowdown, where we read that 50 percent of college graduates can't get a job, college graduates with degrees remotely aligned with applied analytics have multiple offers in advance of graduation. Academic training in applied (versus theoretical) statistics is helpful -- and mitigates some of this talent gap at the entry level. Nonetheless, we all know it's insufficient to meet the growing demand for what we now know as the data scientist.
A scan of offerings at universities across the country shows that none will result in a single degree program in data science. As a professor, I can see at least three reasons why this is so:
Universities historically are not massive ivory towers, but groups of towers called colleges or departments. Cross-discipline degrees aren't a strength of university curricula. Pity the engineering student who wants to minor in history or the student who wants to cobble together a degree in public policy of architecture and ecological science. Ask any student who has tried to cross colleges within a university to create a targeted degree -- it is the worst of bureaucracy, outdated registration systems, and academic-elite egos all wrapped in a Gordian knot. And yet this is exactly what data science is -- the intersection of mathematics, statistics, and computer science, combined with some potential area of content application like finance, biology, or sociology.
The data tsunami washing over all companies, not just data-driven ones, is a fairly recent phenomenon. Professors who teach statistics and computer science, in particular, are recognizing that the traditional skills we have comfortably taught for years or even decades don't work in this environment. Concepts like p-values to derive significance are meaningless when you have a billion rows of data. Professors are being challenged to teach skills that many of them don't have. Some are rising to the challenge, and some (think tweed jackets with leather elbow patches) are just hoping it all goes away, which, of course, it won't.
We need your data. Remember the datasets you saw in the classroom? They had 100 observations, three variables, and no missing values. Everything was significant in its raw form. Welcome to textbook data. We do our students an immense disservice by using this kind of dataset to teach analytics. But, believe it or not, in a sea of data, we are dying of thirst. Universities need massive, complex, unstructured, messy data with missing and (mis)coded values for use in the classroom. Ultimately, we can't teach data science skills without big-data.
I encourage people within the public and private sectors to partner with universities and in particular with professors who have recognized these issues and are trying to pivot their curricula to meet the needs of the marketplace. Sit on advisory boards. Provide real datasets (scrubbed as needed). Offer to speak in the classroom of your experiences with big-data -- everyone's story is the same, but different. Partnerships with universities in this area are particularly important and mutually beneficial. You can help us train your future data scientists.
Do you agree that change is needed if universities are to educate the data scientists that businesses increasingly need? Share your thoughts below.

More Blogs from Jennifer Lewis Priestley

17
Reaching out to a nearby university data community might be the smartest move you'll ever make.
Latest Archived Broadcast

Join author Jared Dean for a discussion about his book, Big Data, Data Mining, and Machine Learning: Value Creation for Business Leaders and Practitioners.
February 3rd 2pm EST Tuesday
February 11th 3pm EST Wednesday
On-demand Video with Chat

Enterprises are struggling through a major talent gap when it comes to data scientists.
CARTOON ARCHIVE
A SAS Information Resource










MORE
Have a question or topic but don't want to write a blog? Post it on our readerboards and get feedback from the community!
Lyndon_Henry on
US military mini-drones to sneak into buildings
MORE READERBOARDS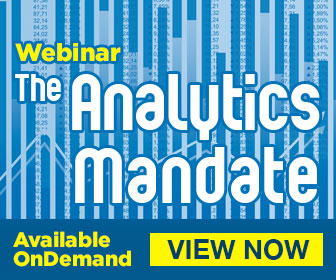 for the Business and IT Communities

Executive forums with additional hands-on learning opportunities offered around the world
Each ideal for practitioners, Business leaders & senior executives

Blog


LEADERS FROM THE BUSINESS AND IT COMMUNITIES DUEL OVER CRITICAL TECHNOLOGY ISSUES

The Current Discussion
The Issue:
Data visualization is an up-and-coming technology for businesses that want to deliver analytical results in a visual way, enabling analysts the ability to spot patterns more easily and business users to absorb the insight at a glance and better understand what questions to ask of the data. But does it make more sense to train everybody to handle the visualization mandate or bring on visualization expertise? Our experts are divided on the question.
The Speakers:
Hyoun Park, Principal Analyst, Nucleus Research; Jonathan Schwabish, US Economist & Data Visualizer
MORE POINT/COUNTERPOINT BLOGS