Redbox's bright-red DVD kiosks are all but ubiquitous these days, located in more than 28,000 spots across the country. Jayson Tipp, Redbox VP of Analytics and CRM, provides an insider's look at how the company has accomplished its phenomenal nine-year growth.


0
Robert shows where your retirement dollars might go the farthest.

0
Online selling offers Girl Scouts an opportunity to grow cookie sales while learning about digital business in a safe environment.

4
Government data helps to illustrate the prime -- and not so prime -- locations for solar and wind power.

1
Visualization can make all the difference when it comes to data-driven decision making.

3
We need to better define mobile analytics and then focus on getting the true mobile apps to work the way they are supposed to.
Latest Archived Broadcast

Join author Jared Dean for a discussion about his book, Big Data, Data Mining, and Machine Learning: Value Creation for Business Leaders and Practitioners.
February 3rd 2pm EST Tuesday
February 11th 3pm EST Wednesday
On-demand Video with Chat

Enterprises are struggling through a major talent gap when it comes to data scientists.
CARTOON ARCHIVE
A SAS Information Resource










MORE
Have a question or topic but don't want to write a blog? Post it on our readerboards and get feedback from the community!
Lyndon_Henry on
US military mini-drones to sneak into buildings
MORE READERBOARDS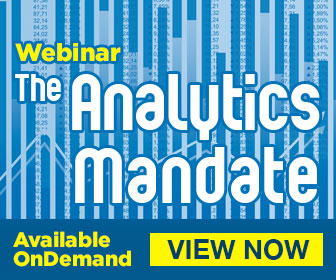 for the Business and IT Communities

Executive forums with additional hands-on learning opportunities offered around the world
Each ideal for practitioners, Business leaders & senior executives

Blog


LEADERS FROM THE BUSINESS AND IT COMMUNITIES DUEL OVER CRITICAL TECHNOLOGY ISSUES

The Current Discussion
The Issue:
Data visualization is an up-and-coming technology for businesses that want to deliver analytical results in a visual way, enabling analysts the ability to spot patterns more easily and business users to absorb the insight at a glance and better understand what questions to ask of the data. But does it make more sense to train everybody to handle the visualization mandate or bring on visualization expertise? Our experts are divided on the question.
The Speakers:
Hyoun Park, Principal Analyst, Nucleus Research; Jonathan Schwabish, US Economist & Data Visualizer
MORE POINT/COUNTERPOINT BLOGS