Organizations that understand the value of data interweave analytics throughout their operations, creating an essential base of people, processes, and technology for strong decision making. With analytics at their core, they realize wide-ranging business benefits and, at times, newfound competitive advantage.
But, as Harvard Business Review Analytics Services found in a SAS-sponsored global survey of nearly 650 executives, managers, and professionals, far more organizations are striving for analytics excellence than have reached it. Check out these at-a-glance results from the survey report, "The Evolution of Decision Making: How Leading Organizations Are Adopting a Data-Driven Culture."

SAS Vice President, Big Data, Paul Kent shared his thoughts on Hadoop adoption, Hadoop's benefits, and the SAS approach to utilizing Hadoop in interviews at Strata+Hadoop last week.
SAS tools offer opportunities to take new views into the Fortune 500 data, such as which states have the most big company based on relationship to their population.
For all the noise about fantasy sports, when it comes to winning by delving into piles of data, that's not for the casual fantasy player.
Keynoters at Strata+Hadoop made the most of 10-minute timeslots to get the audience thinking about new ideas and new approaches to decisions.
If a Cold War era knew how to identify western spies using key indicators, you probably have indicators that show what your customers are likely to do.

Information Resources

Radio Shows

Follow us on Twitter

SAS Best Practices & Training

Quick Poll

CARTERTOONS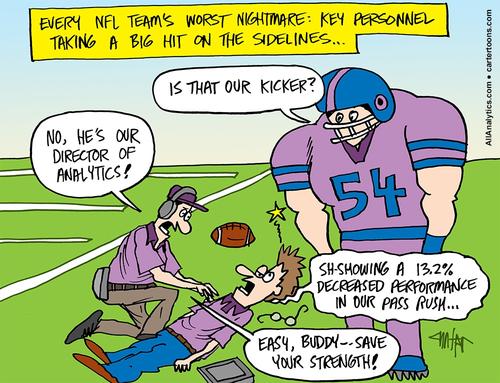 CARTERTOONS ARCHIVE

Like us on Facebook