Organizations that understand the value of data interweave analytics throughout their operations, creating an essential base of people, processes, and technology for strong decision making. With analytics at their core, they realize wide-ranging business benefits and, at times, newfound competitive advantage.
But, as Harvard Business Review Analytics Services found in a SAS-sponsored global survey of nearly 650 executives, managers, and professionals, far more organizations are striving for analytics excellence than have reached it. Check out these at-a-glance results from the survey report, "The Evolution of Decision Making: How Leading Organizations Are Adopting a Data-Driven Culture."


13
Information Week's Doug Henschen explores the prospect of spreading analytics capabilities across the masses.

5
Using satellite imagery and analytics to evaluate a region's economic status is getting lots of attention.

1
Eating liver and prepping data: both are good for you, you might dread both, and in the end, neither is as bad as you thought before.

2
The power of the millennials, the value of sustainability, and economic disruption are some of the factors that hotel executives have to consider as we move through 2015.

10
Industry leaders Hortonworks, SAS, Aetna, Merck, and Target have launched an initiative for an open-source data governance platform.
Latest Archived Broadcast

Join author Jared Dean for a discussion about his book, Big Data, Data Mining, and Machine Learning: Value Creation for Business Leaders and Practitioners.
February 3rd 2pm EST Tuesday
February 11th 3pm EST Wednesday
CARTOON ARCHIVE
On-demand Video with Chat

Enterprises are struggling through a major talent gap when it comes to data scientists.
A SAS Information Resource










MORE
Have a question or topic but don't want to write a blog? Post it on our readerboards and get feedback from the community!
MORE READERBOARDS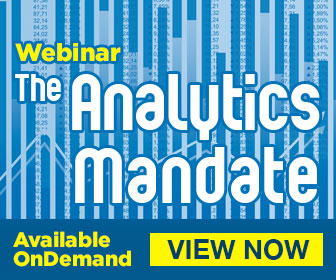 for the Business and IT Communities

Executive forums with additional hands-on learning opportunities offered around the world
Each ideal for practitioners, Business leaders & senior executives

Blog


LEADERS FROM THE BUSINESS AND IT COMMUNITIES DUEL OVER CRITICAL TECHNOLOGY ISSUES

The Current Discussion
The Issue:
Data visualization is an up-and-coming technology for businesses that want to deliver analytical results in a visual way, enabling analysts the ability to spot patterns more easily and business users to absorb the insight at a glance and better understand what questions to ask of the data. But does it make more sense to train everybody to handle the visualization mandate or bring on visualization expertise? Our experts are divided on the question.
The Speakers:
Hyoun Park, Principal Analyst, Nucleus Research; Jonathan Schwabish, US Economist & Data Visualizer
MORE POINT/COUNTERPOINT BLOGS