All Analytics' A2 Academy offers you the opportunity to get the insight you need into one of the latest trends and technologies in advanced analytics, business intelligence, and data management -- without ever having to leave the comfort of your office. This semester our faculty of expert lecturers has prepared a curriculum around the theme, "Big-Data Analytics: Gleaning Insight, Delivering Value."

For all the talk of big-data in and of itself, the real promise lies in its analysis ‒ digging in to discover new intelligence and drive business gains. With big-data analytics will come improvements to operations, customer management, product development… you name it. In these A2 Academy courses, you'll learn about taking big-data analytics from theory to practice. Along the way you'll hear about best-practices for data integration, data quality, and data access; get guidance on how to take your analytics from the reactive to the prescriptive; discover how advanced tools like visual analytics come into play; and learn about building an advanced decision management system. In addition, you'll also find out the latest tips and techniques for using big-data analytics to better understand your customers and enhance their experience with your brands.

A2 Academy will deliver this semester on big-data analytics in a series of seven interactive tutorials during which you can ask questions of the lecturer, discuss tough issues with your fellow students, and download a wealth of additional learning materials. (Don't worry if you can't attend a particular course live – seminars are also archived, and our online educational discussions take place 24 hours a day.)

As an enrolled student in A2 Academy, you will earn points for the number of courses you attend, and extra credit is earned for interactivity and the ability to share information with your peers. The number of points you collect dictates when you graduate and what grade you receive (see here for more details on the points system). You can track your progress in the school by clicking on your profile.

Graduation triggers all manner of good things: We send you a special A2 Academy pin recognizing your achievement, and we'll recognize you in our Role of Honor on the All Analytics site, as well as on our Facebook and Twitter pages.

So click here now to register in advance for your preferred lectures.

Don't forget the human element -- people who will consume data and put it into action -- in an analytics initiative. Chris Mazzei, global chief analytics officer at Ernst & Young, joins All Analytics Radio to share best practices in understanding from the start of a project how the resulting data might address business problems, change people's jobs, and change how customers interact with an organization.
For many companies a move to big data has been limited to use of location data, but there are so many other data types that they can use to make money and keep customers happy.
SAS Vice President, Big Data, Paul Kent shared his thoughts on Hadoop adoption, Hadoop's benefits, and the SAS approach to utilizing Hadoop in interviews at Strata+Hadoop last week.
SAS tools offer opportunities to take new views into the Fortune 500 data, such as which states have the most big company based on relationship to their population.
For all the noise about fantasy sports, when it comes to winning by delving into piles of data, that's not for the casual fantasy player.

Information Resources

Radio Shows

Follow us on Twitter

SAS Best Practices & Training

Quick Poll

CARTERTOONS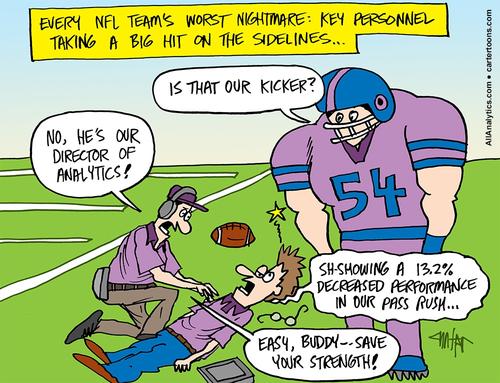 CARTERTOONS ARCHIVE

Like us on Facebook