Consider the ways you can support the new customer experience, such as the ability to relate a consumer's activity on your website with their later appearance on in-store proximity beacons. How can you enhance that shopper's experience? Think about ability for a company like GE to optimize the performance and lifespan of a multi-million-dollar piece of heavy equipment at a customer site, improving customer production by 10% or more. How does that translate into customer satisfaction? Then there is the relationship with your own suppliers and trusted business partners. If the IoT allows you to optimize your inventory system, what positive impact in terms of predictability does that have on your own supply partners? This episode will delve deeper into opportunities, highlighting examples that your organization can learn from and emulate. Learn about:
How IoT supports new business models driven by services
Where the consumer IoT, including the smart home and smart car, intersects with the corporate IoT
How you can mitigate customer privacy concerns, and get "buy-in" on device data sharing
Where the IoT drives your brand even without direct impact on revenue
If you are already a registered user of AllAnalytics, please login to access this content without re-entering your information.

HIPAA is supposed to protect the privacy of your medical information, but the sale of anonymized medical data and advances in analytics have made it possible for organizations to re-link your name to your private records.
Career prospects are hot for both data analytics pros and cyber security specialists. Now CompTIA is introducing a certification that combines these specialities to apply analytics to cyber security.
There has been plenty of talk about the need for a chief analytics officer or chief data officer. But do you ever wonder what they do for a living?
Visual analytics tools, can enable non-statistician citizen data scientist to create models that use predictive or prescriptive analytics. These professionals can embed their business knowledge into the models they're testing, prototyping, or building.
Are your digital marketers creating gaps in customer privacy? They could be unless they vet tags and third-party app access.  Here's how to do the vetting.

A2 Conversations

Information Resources

CARTERTOONS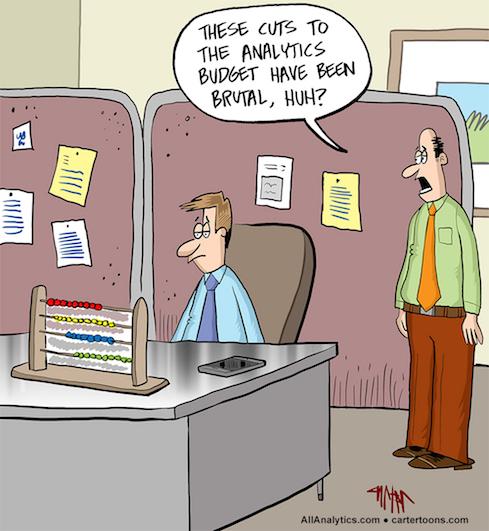 CARTERTOONS ARCHIVE

International Institute for Analytics Research Library

Quick Poll