Consider the ways you can support the new customer experience, such as the ability to relate a consumer's activity on your website with their later appearance on in-store proximity beacons. How can you enhance that shopper's experience? Think about ability for a company like GE to optimize the performance and lifespan of a multi-million-dollar piece of heavy equipment at a customer site, improving customer production by 10% or more. How does that translate into customer satisfaction? Then there is the relationship with your own suppliers and trusted business partners. If the IoT allows you to optimize your inventory system, what positive impact in terms of predictability does that have on your own supply partners? This episode will delve deeper into opportunities, highlighting examples that your organization can learn from and emulate. Learn about:
How IoT supports new business models driven by services
Where the consumer IoT, including the smart home and smart car, intersects with the corporate IoT
How you can mitigate customer privacy concerns, and get "buy-in" on device data sharing
Where the IoT drives your brand even without direct impact on revenue
If you are already a registered user of AllAnalytics, please login to access this content without re-entering your information.

Data governance is the secret infrastructure behind organizations that successfully leverage analytics to add value. Here's a closer look.
How the National Hockey League is using sensors and predictive analytics to learn more about fans and game play.
It may be impossible to predict the perfect bracket, but these academics have managed to predict perfectly the "at large" bids that were included in the March Madness NCAA college basketball tournament this year and with 96% accuracy over the last 6 years.
The role of the data scientist is changing before our eyes, both in the necessary skillsets and positioning within the company. A2 Radio looks at how the data science role is evolving.
Everybody knows how important analytics is to remaining competitive. Where does your company and industry stand in terms of advanced analytics maturity?

A2 Conversations

Information Resources

CARTERTOONS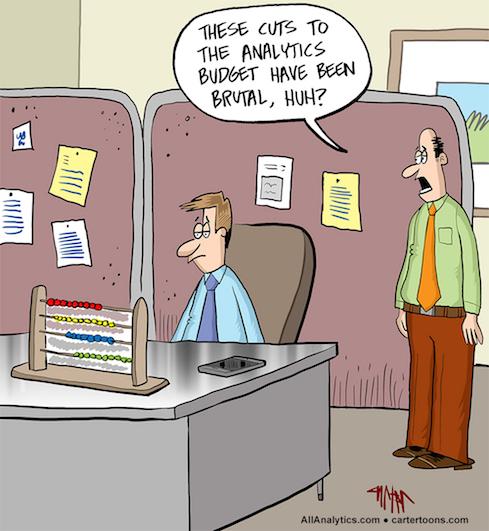 CARTERTOONS ARCHIVE

International Institute for Analytics Research Library

Quick Poll