0
A new report highlights the risks and pain points that banks face when dealing with cyberthreats.

14
We share one expert's perspective on how Amazon could make its drone-based package delivery fly.

3
A significant portion of our audience didn't buy the Black Friday hype and stayed home instead of shopping this past Thanksgiving weekend.

14
A new report shows that companies using business intelligence and analytics tools want them to be easier to use, and they want more visualization options.

2
Big data enables marketers to move beyond demographic samples and focus on actual responses and customers.
Write a Caption, Win a Starbucks Card!
Click here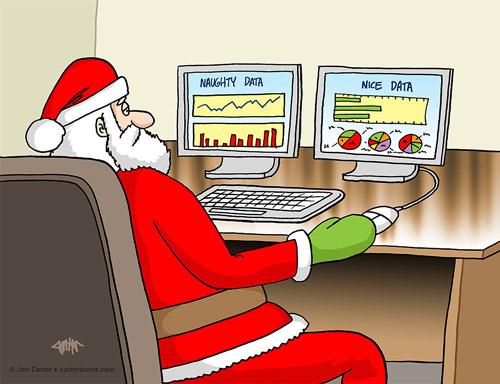 CARTOON ARCHIVE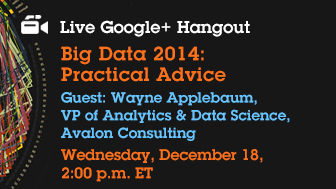 Latest Archived Broadcast

Text analytics can pay, if you know how to avoid the pitfalls and set your project up for success.
December 17th 1pm EST Tuesday

Have a question or topic but don't want to write a blog? Post it on our readerboards and get feedback from the community!
johnsonI on
Save much more money with these four simple suggestions
treharnevx on
A2 Caption Contest: Reporting From the North Pole
MORE READERBOARDS
On-demand Video with Chat

As retailers evolve toward an omnichannel environment, much of their success will depend on how effectively they use big-data and analytics.
for the Business and IT Communities

Executive forums with additional hands-on learning opportunities offered around the world
Each ideal for practitioners, Business leaders & senior executives


Blog


LEADERS FROM THE BUSINESS AND IT COMMUNITIES DUEL OVER CRITICAL TECHNOLOGY ISSUES

The Current Discussion
The Issue:
Data visualization is an up-and-coming technology for businesses that want to deliver analytical results in a visual way, enabling analysts the ability to spot patterns more easily and business users to absorb the insight at a glance and better understand what questions to ask of the data. But does it make more sense to train everybody to handle the visualization mandate or bring on visualization expertise? Our experts are divided on the question.
The Speakers:
Hyoun Park, Principal Analyst, Nucleus Research; Jonathan Schwabish, US Economist & Data Visualizer
MORE POINT/COUNTERPOINT BLOGS