Member Since: July 15, 2011
As a professional blogger, Ariella Brown writes about analytics, marketing, branding, social media, big data, and the impact of the internet on education and society, among other topics. She holds a PhD in English and has years of experience as a writing instructor. Through her business, Write Way Productions, she offers writing, editing, marketing, ad design, and social media services.
Linked in profile at http://www.linkedin.com/in/ariellab at http://twitter.com/AriellaBrown On Google+

Our A2 Radio Show on Tuesday, September 1, kicks off a four-month focus on building and managing the enterprise analytics team.
Matching the right model with the right data in a big data world requires a careful balancing act.
Maybe it's time for analytics professionals -- those of you who seek the truth through data -- to take to the streets to lead the world in a quest for proper use of good data.
When it comes to managing and motivating employees too much data might be a bad thing. Maybe Amazon highlights the need for balancing data and gut decisions.
Companies that have CDOs tend to perform better than those without, according to a report from Forrester.

Radio Shows

Information Resources

Follow us on Twitter

SAS Best Practices & Training

Quick Poll

CARTERTOONS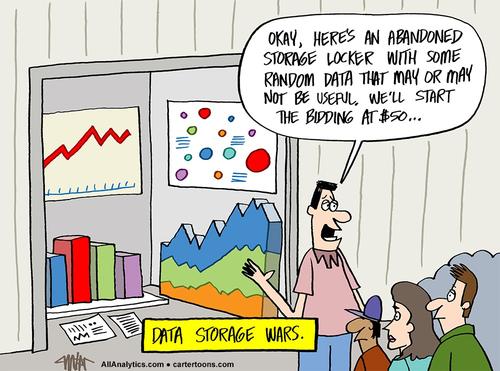 CARTERTOONS ARCHIVE

Like us on Facebook