You've heard the expression, "Your company is only as good as its best employees." Perhaps it's with this in mind that human resources professionals are starting to place value on understanding human capital – and embracing analytics to get them the insight they need.

Tune in as Gene Pease, co-author of Human Capital Analytics and CEO of Capital Analytics LLP, explains how HR is using predictive analytics today. You'll learn how to:
Apply the same tools used in finance, marketing, and other business functions to human capital investments
Optimize and evaluate investments in people
Meet corporate accountability mandates
If you are already a registered user of AllAnalytics, please login to access this content without re-entering your information.

Early sales show that retailers' investments in analytics paid off during the 2016 holiday shopping season. Here are a few highlights from the beginning of the rush.
This week's #GivingTuesday highlights the need not only to volunteer with organizations that are trying to make the world better through analytics, but to make those efforts successful.
While half of surveyed organizations say they are progressing with digital transformation, the other half are left to the fate of the DoDo Bird.
The struggle to learn how customers engage with IoT devices as part of customer experience is real. Here is how marketers can approach strategies with analytics reporting that monitors related traffic in real time.
Our upcoming All Analytics Radio programs look at the progress of the Internet of Things -- and why it matters to your business -- and how to find the right mix of experience and analytics in the retail sector. Tune in this Tuesday and again on December 6.

A2 Conversations

Information Resources

Quick Poll

International Institute for Analytics Research Library

CARTERTOONS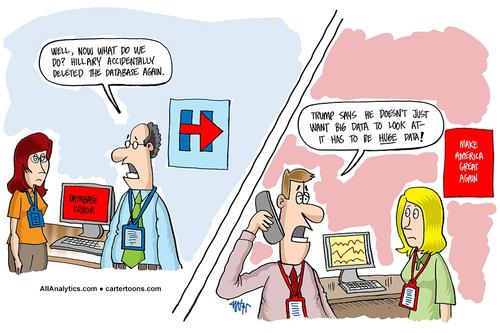 CARTERTOONS ARCHIVE