By now, we're all familiar with the notion that big-data is a big deal. Now, if you could only figure out what that means for your organization's particular situation and how to make the business case for big-data. It's time to think big, as recognized technology expert and award-winning author Phil Simon recommends in his latest book, Too Big to Ignore.
Tune in as Simon, in his inimitable style, tells us why big-data is worthy of its trendiness -- and not a fad to wish away. You'll hear:
Why big-data matters
How leading companies are taking advantage of big-data -- and how you can, too
How to separate big-data myths from reality
What a big-data world means for humanity
If you are already a registered user of AllAnalytics, please login to access this content without re-entering your information.


0
So you want to be a data scientist. Understand why and how you want to make the move.

6
A series of dealings with wait staff and cashiers highlighted best and worst practices in customer loyalty programs.

8
There's something strange about seeing 25-year-old data show up in a completely unexpected place, and you wonder who thought it was a good idea to save it.

17
The NFL needs data it didn't keep. What do you do when that happens?

14
Cameras work with analytics software to provide heavy equipment drivers -- and eventually the average person -- with protection against becoming dangerous distracted drivers.
Latest Archived Broadcast

Join author Jared Dean for a discussion about his book, Big Data, Data Mining, and Machine Learning: Value Creation for Business Leaders and Practitioners.
February 3rd 2pm EST Tuesday
On-demand Video with Chat

Enterprises are struggling through a major talent gap when it comes to data scientists.
CARTOON ARCHIVE
A SAS Information Resource










MORE
Have a question or topic but don't want to write a blog? Post it on our readerboards and get feedback from the community!
Lyndon_Henry on
US military mini-drones to sneak into buildings
AngieRM on
Welcome to the A2 Bookclub Chat
Jared on
Welcome to the A2 Bookclub Chat
MORE READERBOARDS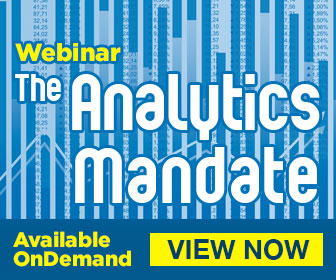 for the Business and IT Communities

Executive forums with additional hands-on learning opportunities offered around the world
Each ideal for practitioners, Business leaders & senior executives

Blog


LEADERS FROM THE BUSINESS AND IT COMMUNITIES DUEL OVER CRITICAL TECHNOLOGY ISSUES

The Current Discussion
The Issue:
Data visualization is an up-and-coming technology for businesses that want to deliver analytical results in a visual way, enabling analysts the ability to spot patterns more easily and business users to absorb the insight at a glance and better understand what questions to ask of the data. But does it make more sense to train everybody to handle the visualization mandate or bring on visualization expertise? Our experts are divided on the question.
The Speakers:
Hyoun Park, Principal Analyst, Nucleus Research; Jonathan Schwabish, US Economist & Data Visualizer
MORE POINT/COUNTERPOINT BLOGS