By now, we're all familiar with the notion that big-data is a big deal. Now, if you could only figure out what that means for your organization's particular situation and how to make the business case for big-data. It's time to think big, as recognized technology expert and award-winning author Phil Simon recommends in his latest book, Too Big to Ignore.
Tune in as Simon, in his inimitable style, tells us why big-data is worthy of its trendiness -- and not a fad to wish away. You'll hear:
Why big-data matters
How leading companies are taking advantage of big-data -- and how you can, too
How to separate big-data myths from reality
What a big-data world means for humanity
If you are already a registered user of AllAnalytics, please login to access this content without re-entering your information.

Jon Carter's latest cartoon should hit home with everyone who has faced that "agree" button for a piece of software or a website.
The new SAS 360 Discover provides marketers with new views into the activities of their valued customers.
A mom can provide a lesson in life-long learning, and the growing number of analytics programs in universities help to support that need to learn.
Amazon's emphasis on the Internet of Things in its strategic moves demonstrates how web analytics is no longer just about the web.
An awesome visualization of World War II deaths provides insight into what global war means while also shedding light on how relatively lucky we are today.

A2 Conversations

Information Resources

CARTERTOONS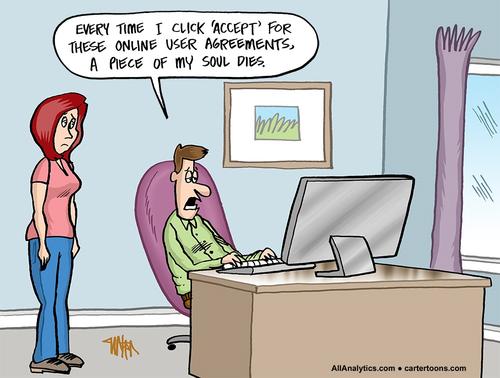 CARTERTOONS ARCHIVE

International Institute for Analytics Research Library

Quick Poll