Lots of companies use traditional survey-based methods, like Net Promoter Score, to get a measure of customer satisfaction. But for today's always-on enterprises, these methods are proving of increasingly limited value: They can't be done with great enough frequency or detail, at reasonable cost, to provide an up-to-date read on customer satisfaction.
Business process experts Peter Gloor, a research scientist with the MIT Center for Collective Intelligence, and Gianni Giacomelli, CMO and SVP of product innovation at GE-spinoff Genpact, think they've found a better, quicker, and cheaper way. As they discuss in the MIT Sloan Management Review article, "Reading Global Clients' Signals," they've developed a method for monitoring and predicting customer satisfaction by analyzing the social network structure of email interactions between service providers and their clients. In this A2 Radio episode, Gloor will share an overview of their novel approach. You'll learn about:
Applying social network analysis to email interactions
Evaluating social network metrics
Predicting the satisfaction of email users
Using this method for any collaborative work relationship
If you are already a registered user of AllAnalytics, please login to access this content without re-entering your information.

Keynoters at Strata+Hadoop made the most of 10-minute timeslots to get the audience thinking about new ideas and new approaches to decisions.
If a Cold War era knew how to identify western spies using key indicators, you probably have indicators that show what your customers are likely to do.
A visit to Strata + Hadoop validated the idea that the key reason Hadoop adoption seems slow is that the industry once again underestimated how tough an enterprise implementation can be.
Data from Gallup and Purdue University highlights graduate dissatisfaction with their bang for the educational buck, and how many of them are hamstrung for years by student debt.
Hotel chains are moving toward enabling guests to open their room doors and gain other benefits through smart phone apps.

Information Resources

Radio Shows

Follow us on Twitter

SAS Best Practices & Training

Quick Poll

CARTERTOONS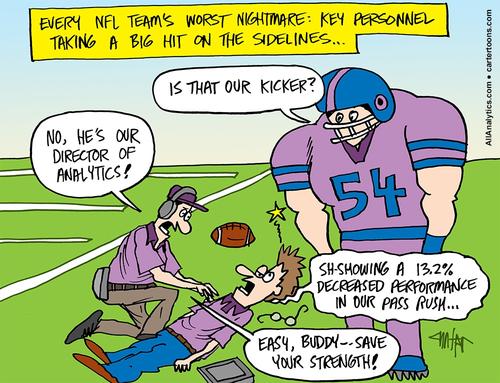 CARTERTOONS ARCHIVE

Like us on Facebook