Lots of companies use traditional survey-based methods, like Net Promoter Score, to get a measure of customer satisfaction. But for today's always-on enterprises, these methods are proving of increasingly limited value: They can't be done with great enough frequency or detail, at reasonable cost, to provide an up-to-date read on customer satisfaction.
Business process experts Peter Gloor, a research scientist with the MIT Center for Collective Intelligence, and Gianni Giacomelli, CMO and SVP of product innovation at GE-spinoff Genpact, think they've found a better, quicker, and cheaper way. As they discuss in the MIT Sloan Management Review article, "Reading Global Clients' Signals," they've developed a method for monitoring and predicting customer satisfaction by analyzing the social network structure of email interactions between service providers and their clients. In this A2 Radio episode, Gloor will share an overview of their novel approach. You'll learn about:
Applying social network analysis to email interactions
Evaluating social network metrics
Predicting the satisfaction of email users
Using this method for any collaborative work relationship
If you are already a registered user of AllAnalytics, please login to access this content without re-entering your information.

Speakers from El Paso Community College illustrate how researchers and IT can work together using SAS tools to provide crucial information and encourage users to come up with new ideas for using analytics.
All Analytics Radio hosts Gwenn Bezard of the Aite Group on Friday at noon, as we discuss what the Internet of Things means to the relationship between customers and their insurance companies. We will look at the benefits and possible penalties that await individuals and companies that give insurers access to enterprise and home IoT systems.
Streaming analytics, which is drawing an increasing amount of interest, helps enterprises by visualizing the business in real-time, cutting preventable losses, automating immediate actions, and detecting urgent conditions.
The Interop IoT Summit highlighted why it's time to break our image of the Internet of Things into multiple small chunks, so we don't confuse consumer IoT with what goes on at industrial sites and in the commercial world.
At the All Analytics Roundtable at the InformationWeek Elite 100 conference, IT and analytics executives emphasized why serving people ranks ahead of bottom-line results.

A2 Conversations

Information Resources

CARTERTOONS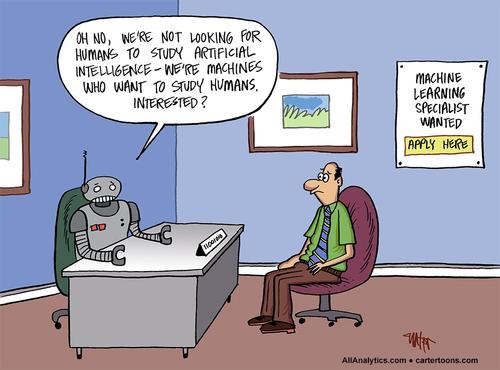 CARTERTOONS ARCHIVE

SAS Best Practices & Training

Quick Poll