Lots of companies use traditional survey-based methods, like Net Promoter Score, to get a measure of customer satisfaction. But for today's always-on enterprises, these methods are proving of increasingly limited value: They can't be done with great enough frequency or detail, at reasonable cost, to provide an up-to-date read on customer satisfaction.
Business process experts Peter Gloor, a research scientist with the MIT Center for Collective Intelligence, and Gianni Giacomelli, CMO and SVP of product innovation at GE-spinoff Genpact, think they've found a better, quicker, and cheaper way. As they discuss in the MIT Sloan Management Review article, "Reading Global Clients' Signals," they've developed a method for monitoring and predicting customer satisfaction by analyzing the social network structure of email interactions between service providers and their clients. In this A2 Radio episode, Gloor will share an overview of their novel approach. You'll learn about:
Applying social network analysis to email interactions
Evaluating social network metrics
Predicting the satisfaction of email users
Using this method for any collaborative work relationship
If you are already a registered user of AllAnalytics, please login to access this content without re-entering your information.

Our A2 Radio Show on Tuesday, September 1, kicks off a four-month focus on building and managing the enterprise analytics team.
Matching the right model with the right data in a big data world requires a careful balancing act.
Maybe it's time for analytics professionals -- those of you who seek the truth through data -- to take to the streets to lead the world in a quest for proper use of good data.
When it comes to managing and motivating employees too much data might be a bad thing. Maybe Amazon highlights the need for balancing data and gut decisions.
Companies that have CDOs tend to perform better than those without, according to a report from Forrester.

Radio Shows

Information Resources

Follow us on Twitter

SAS Best Practices & Training

Quick Poll

CARTERTOONS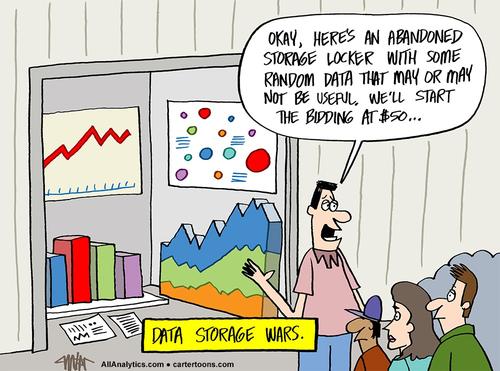 CARTERTOONS ARCHIVE

Like us on Facebook