In the half-dozen years since thought-leader Tom Davenport co-authored the seminal management book Competing on Analytics: The New Science of Winning, he has worked with well over 100 companies on how to use analytics to competitive advantage. So when big data entered the business parlance several years back, you'd have thought he'd have been a natural for proclaiming its virtues. But Davenport was a Johnny-come-lately to the big-data party, a self-admitted skeptic who converted only after systematically studying big data from every which way.
Davenport details his conversion in his latest book, Big Data at Work: Dispelling the Myths, Uncovering the Opportunities. But, more importantly, he explains why you and your company need to recognize big data's importance. Tune in to learn how to:
Differentiate between conventional analytics and big data
Deconstruct big data for effective understanding
Mobilize around big data
Make effective decisions using big data
Use big data to develop new products and services
If you are already a registered user of AllAnalytics, please login to access this content without re-entering your information.

Keynoters at Strata+Hadoop made the most of 10-minute timeslots to get the audience thinking about new ideas and new approaches to decisions.
If a Cold War era knew how to identify western spies using key indicators, you probably have indicators that show what your customers are likely to do.
A visit to Strata + Hadoop validated the idea that the key reason Hadoop adoption seems slow is that the industry once again underestimated how tough an enterprise implementation can be.
Data from Gallup and Purdue University highlights graduate dissatisfaction with their bang for the educational buck, and how many of them are hamstrung for years by student debt.
Hotel chains are moving toward enabling guests to open their room doors and gain other benefits through smart phone apps.

Information Resources

Radio Shows

Follow us on Twitter

SAS Best Practices & Training

Quick Poll

CARTERTOONS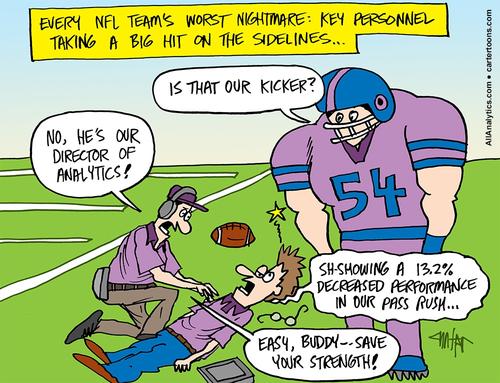 CARTERTOONS ARCHIVE

Like us on Facebook