IT and lines of business (LOBs) have long been known to butt heads over data accessibility and business intelligence. And now, with the rising strategic importance of analytics and data-driven decision making, the infighting is intensifying. Many LOBs, as a recent IDC study shows, are deliberately working around IT to fulfill their data and analytics needs. But it's not too late for CIOs to regain their authority, says IDC.
Big data, in fact, provides them the perfect opportunity. It requires an advanced enterprise analytics strategy, and an IT foundation capable of supporting it. Smart CIOs will take advantage, reasserting IT as trusted advisor for enterprise big-data initiatives.
As a former CIO (at Medtronics), James Dallas has given IT's role in big data a lot of thought. And he, too, believes it presents a great opportunity for CIOs, as he shared in a recent webinar series, "Busting the Four Analytics Myths" (watch on demand). Tune in to this A2 Radio episode for his thoughts on analytics, big data, and IT. You'll learn about the importance of:
Elevating IT throughout the enterprise
Shifting IT's focus from control to collaboration
Making peace with the business
If you are already a registered user of AllAnalytics, please login to access this content without re-entering your information.

Imagine the possibilities if something like the Peeple app actually let us know how cranky we appear to others and they could rate us.
With income inequality a hot topic during election years, Robert goes to work on making graphs of income breakdowns easier to read.
The SAS-hosted conferences coming up in Las Vegas later this month -- A2015, PBLS, and CAO Summit -- offer an opportunity for self-directed educational experiences.
Don't forget the human element -- people who will consume data and put it into action -- in an analytics initiative. Chris Mazzei, global chief analytics officer at Ernst & Young, joins All Analytics Radio to share best practices in understanding from the start of a project how the resulting data might address business problems, change people's jobs, and change how customers interact with an organization.
For many companies a move to big data has been limited to use of location data, but there are so many other data types that they can use to make money and keep customers happy.

Information Resources

Radio Shows

Follow us on Twitter

SAS Best Practices & Training

Quick Poll

CARTERTOONS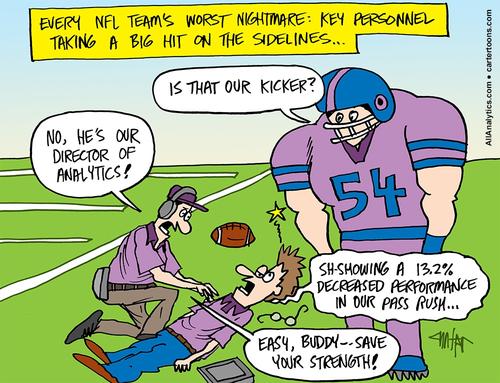 CARTERTOONS ARCHIVE

Like us on Facebook