Flexibility, scalability, efficiency, and speed to market are some of the reasons enterprises are turning to cloud-based applications in their efforts to enable data-driven decision making. Organizations of all sizes are discovering that taking advantage of big data may not require huge investments in IT infrastructure and that cloud-based analytics tools can eliminate the need for massive development efforts.
All Analytics Radio will be examining why the cloud makes good sense for an enterprise analytics initiative, and why organizations have to consider the cloud for big data based applications. Our guest for this show is Jeff Kaplan, who is founder and managing director of THINKstrategies, a consultancy focused on helping organizations find business benefits and new market opportunities through Software-as-a-Service (SaaS), cloud computing, managed services and other service solutions. Jeff, who also is an All Analytics blogger, will discuss how cloud services and applications can help an enterprise optimize its data analytics initiatives.
In this show you will learn more about:
How the cloud enables a company to implement an analytics strategy quickly and efficiently
Why the cloud provides the flexibility and scalability that an enterprise needs as their analytics strategy evolves and grows
The questions that an enterprise executive needs to ask cloud providers about factors such as data security and cost
When a cloud-based strategy is right for an enterprise
If you are already a registered user of AllAnalytics, please login to access this content without re-entering your information.

HIPAA is supposed to protect the privacy of your medical information, but the sale of anonymized medical data and advances in analytics have made it possible for organizations to re-link your name to your private records.
Career prospects are hot for both data analytics pros and cyber security specialists. Now CompTIA is introducing a certification that combines these specialities to apply analytics to cyber security.
There has been plenty of talk about the need for a chief analytics officer or chief data officer. But do you ever wonder what they do for a living?
Visual analytics tools, can enable non-statistician citizen data scientist to create models that use predictive or prescriptive analytics. These professionals can embed their business knowledge into the models they're testing, prototyping, or building.
Are your digital marketers creating gaps in customer privacy? They could be unless they vet tags and third-party app access.  Here's how to do the vetting.

A2 Conversations

Information Resources

CARTERTOONS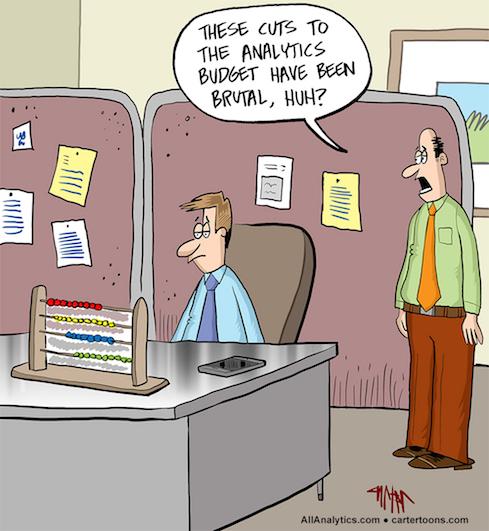 CARTERTOONS ARCHIVE

International Institute for Analytics Research Library

Quick Poll