Everyone is talking about using analytics to improve healthcare, collecting data on blood pressure, insulin levels, heart rate, and other indicators. However, health plan CareSource not only is analyzing that traditional medical data but is using analytics to draw a more complete picture of a patient and the life factors -- lifestyle, home life, and work -- that shape their health. The goal is to prevent recurrence of medical issues and readmission to the hospital.
Bob Gladden, vice president for CareSource's Center for Analytics, and his team are taking creative approaches to healthcare analytics in an effort to keep their clients healthier in the long run. Gladden joins All Analytics Radio to discuss how organizations can use analytics to search for healthcare solutions that range beyond what we have grown to view as standard health data.
In this show you will learn:
About the impact that unnecessary recurrence and readmission have on patients, providers, insurers, and the public
How providers and insurers can utilize data analytics to have a positive impact on patient lives while delivering efficiencies throughout the healthcare system
What types of life factors have a significant impact on patient health and how data can identify possible solutions
About the unexpected role that healthcare analytics can have in shaping public policy, particularly for those patients most in need
If you are already a registered user of AllAnalytics, please login to access this content without re-entering your information.

It may be impossible to predict the perfect bracket, but these academics have managed to predict perfectly the "at large" bids that were included in the March Madness NCAA college basketball tournament this year and with 96% accuracy over the last 6 years.
The role of the data scientist is changing before our eyes, both in the necessary skillsets and positioning within the company. A2 Radio looks at how the data science role is evolving.
Everybody knows how important analytics is to remaining competitive. Where does your company and industry stand in terms of advanced analytics maturity?
The volume of astronomical data continues to expand at an explosive rate. The application of analytics to so much data offers new opportunities and even career options to space and data enthusiasts.
It's time for the annual college basketball tournament known as March Madness. Did you use analytics to inform your bracket choices?

A2 Conversations

Information Resources

CARTERTOONS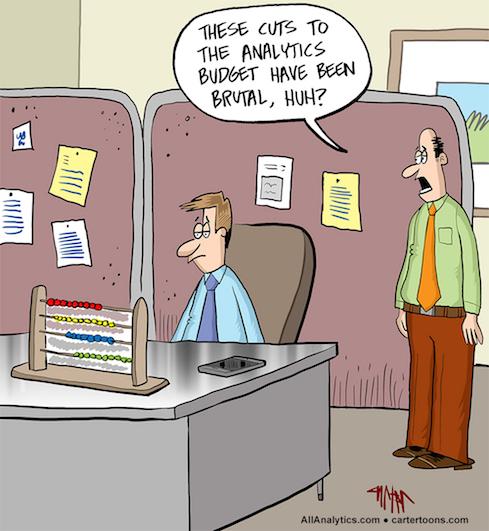 CARTERTOONS ARCHIVE

International Institute for Analytics Research Library

Quick Poll