The ability to explore data visually and deliver analytics results in dynamic data visualizations can help companies gain better and quicker insight for decision making. Visual analytics may seem like a technology for the big guys only, but it holds considerable power for small and midsized businesses, too.
SMB experts Sanjeev Aggarwal and Laurie McCabe, partners at the technology consulting firm SMB Group, will join us Thursday, July 11, at 2:00 p.m. ET (11:00 a.m. PT) for a video chat on how SMBs can benefit from the use of visual analytics. Tune in to learn:
Why spreadsheets, reports, and static graphics aren't enough anymore
How visualization lets business users get more value from information
What to look for in data visualization tools and what to consider when figuring out which will work best for your company
How to create a visually oriented data culture
If you are already a registered user of AllAnalytics, please login to access this content without re-entering your information.

Jon Carter's latest cartoon should hit home with everyone who has faced that "agree" button for a piece of software or a website.
The new SAS 360 Discover provides marketers with new views into the activities of their valued customers.
A mom can provide a lesson in life-long learning, and the growing number of analytics programs in universities help to support that need to learn.
Amazon's emphasis on the Internet of Things in its strategic moves demonstrates how web analytics is no longer just about the web.
An awesome visualization of World War II deaths provides insight into what global war means while also shedding light on how relatively lucky we are today.

A2 Conversations

Information Resources

CARTERTOONS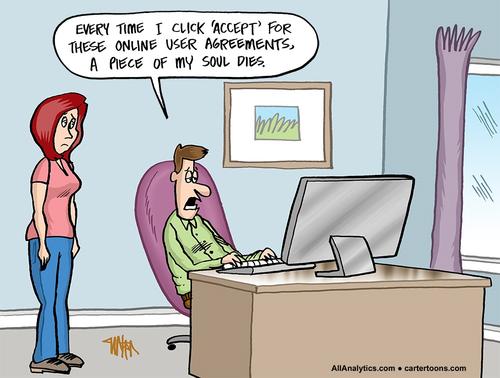 CARTERTOONS ARCHIVE

International Institute for Analytics Research Library

Quick Poll