The ability to explore data visually and deliver analytics results in dynamic data visualizations can help companies gain better and quicker insight for decision making. Visual analytics may seem like a technology for the big guys only, but it holds considerable power for small and midsized businesses, too.
SMB experts Sanjeev Aggarwal and Laurie McCabe, partners at the technology consulting firm SMB Group, will join us Thursday, July 11, at 2:00 p.m. ET (11:00 a.m. PT) for a video chat on how SMBs can benefit from the use of visual analytics. Tune in to learn:
Why spreadsheets, reports, and static graphics aren't enough anymore
How visualization lets business users get more value from information
What to look for in data visualization tools and what to consider when figuring out which will work best for your company
How to create a visually oriented data culture
If you are already a registered user of AllAnalytics, please login to access this content without re-entering your information.

Professional sports leagues the NFL, NHL, NBA, and MLB are all leveraging analytics and IoT in their efforts to improve the games. Here's an overview.
What makes March Madness basketball data analytics even better? A great visualization.
Monetizing Your Data authors Andrew Wells and Kathy Chiang join A2 radio to discuss the trouble with today's analytics programs and how to fix them.
Data governance is the secret infrastructure behind organizations that successfully leverage analytics to add value. Here's a closer look.
How the National Hockey League is using sensors and predictive analytics to learn more about fans and game play.

A2 Conversations

Information Resources

CARTERTOONS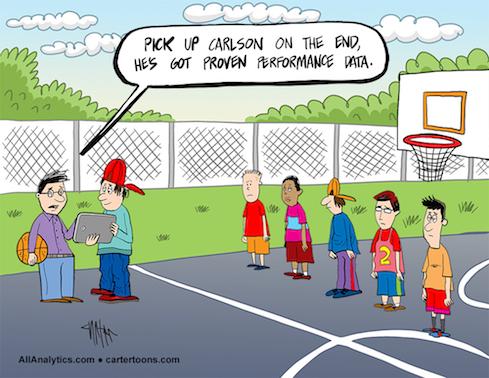 CARTERTOONS ARCHIVE

International Institute for Analytics Research Library