Increased spending on marketing services over advertising means small businesses are investing big in tools such as analytics.


0
The International Institute for Analytics lays out nine ways we'll see analytics grow in the coming year.

0
Preserving documents, emails, and personnel records is smart for businesses and critical for government entities. Advanced text mining technologies make the process easier and smoother by automating routine classification tasks.

6
Five months of work culminate in Computer Science Education Week, a national effort to encourage parents, schools, and children to learn about computer programming.

1
Join business analytics consultant Meta S. Brown for an A2 Radio conversation on how to make text analytics pay.

9
Business analysts are uniquely equipped to help data analysts and IT cooperate productively.
Write a Caption, Win a Starbucks Card!
Click here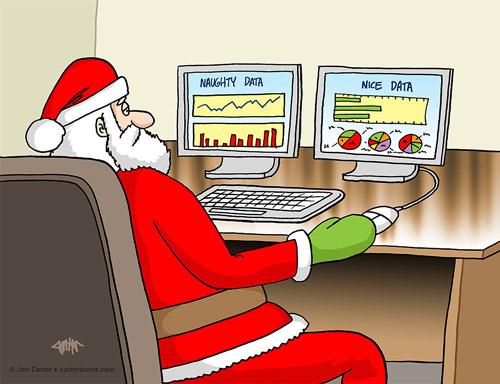 CARTOON ARCHIVE
Latest Archived Broadcast

You've all heard about the impending shortage of analytical talent and the increasing demand for big-data professionals in particular. Now find out about your big-data earning power.
Today!
December 11th 2pm EST Wednesday
December 17th 1pm EST Tuesday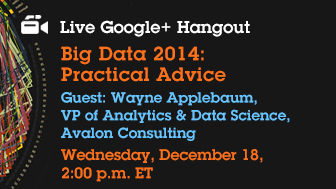 Have a question or topic but don't want to write a blog? Post it on our readerboards and get feedback from the community!
BethSchultz on
M.S. programs in Massachusetts focused on big data?
MORE READERBOARDS
On-demand Video with Chat

As retailers evolve toward an omnichannel environment, much of their success will depend on how effectively they use big-data and analytics.
for the Business and IT Communities

Executive forums with additional hands-on learning opportunities offered around the world
Each ideal for practitioners, Business leaders & senior executives


Blog


LEADERS FROM THE BUSINESS AND IT COMMUNITIES DUEL OVER CRITICAL TECHNOLOGY ISSUES

The Current Discussion
The Issue:
Data visualization is an up-and-coming technology for businesses that want to deliver analytical results in a visual way, enabling analysts the ability to spot patterns more easily and business users to absorb the insight at a glance and better understand what questions to ask of the data. But does it make more sense to train everybody to handle the visualization mandate or bring on visualization expertise? Our experts are divided on the question.
The Speakers:
Hyoun Park, Principal Analyst, Nucleus Research; Jonathan Schwabish, US Economist & Data Visualizer
MORE POINT/COUNTERPOINT BLOGS