Imagine you are a quality manager at a solar cell manufacturing line, and you have just received a note from your testing group that the last batch produced had an alarming rate of low-efficiency product. Given the implications and impact of such an event, you need to get into full action to understand the reasons for the higher failure rate and how to fix it for the current and future batches. Meanwhile, the clock is running, because each incremental failure is adding to the millions of lost revenue already incurred. What do you do?
Now imagine you are a treasure hunter who has just received a grant from a private investor to find lost treasures in the Pacific Ocean. You'll get a special bonus for finding the Japanese general Tomoyuki Yamashita's ship, which had precious treasures looted from Burma. The grant is enough to help sustain you and your team in the sea for 30 days. What do you do?
Although these are two very different situations, the paths to the solution -- or, should we say, the paths to the efficient solution -- would be similar.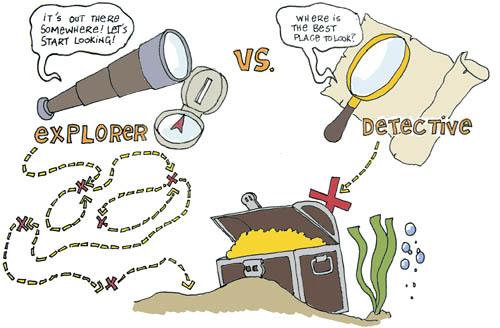 As a treasure hunter, you could take a "Christopher Columbus, the explorer" approach: setting sail with a crew and a submarine in tow and starting to look for the gold. If you go the explorer route, you are guaranteed the views (nice corals, beautiful wildlife, emerald-green waters), but the chances of finding gold in 30 days are slim. Essentially, you are not directing your effort toward finding gold. Your actions of exploration are independent of what you are looking for. You'd take the same action when tasked with looking for killer whales.
Or you could take a "Sherlock Holmes, the detective" approach and identify potential areas for shipwrecks in general and where Yamashita's ship might have sunk in particular. How do you identify top candidates for the shipwreck's location? Can you look at historical trade routes and records of wrecks and then eliminate some locations using depth information and possibly records of Yamashita's post-World War II retreat? By using clues and facts, you can start identifying potential areas to explore.
Once you have identified a dozen-plus potential locations, you can prioritize the top three areas and then use your submarine or deep-sea divers to go explore. You will likely find your gold in a much shorter time. You will either succeed fast or fail faster and then restrategize to attack the problem again.
Going back to our quality manager in the solar cell line with a major malfunction, the approach to identifying and fixing the problem is no different than the treasure hunt. You could take the Columbus approach and start collecting data points, hoping to find the causes of the failure. But, as you can imagine, with multiple assembly lines, each having multitudes of processes and equipment, your chances of finding the problem area quickly are going to be slim. It could be because of a single valve malfunction, but imagine the probability of finding it among the millions of things you could inspect!
That changes if you take the Holmes approach and identify clues guided by where the failures happened. Are all the lines producing unusually faulty products? When did the problem start? Where exactly are the faults in the product, and to what processes/equipment do they correspond? You get the gist!
The important thing to note is you don't need to know all the answers to the guided questions you are asking. You can construct a solid hypothesis based on what you know and then use the hypothesis to unravel the potential problem candidates. With this approach, you can find quickly that high temperature in line 10 caused the faulty construction. Process recipe changes or malfunctioning hardware, such as heat exchangers, often cause temperature issues. By identifying the top things to consider, you can easily narrow down the candidates and find the cause of the problem -- in this case, a heat exchanger's faulty valve.
I can't imagine a treasure hunter worth any salt going the Columbus route, but I have seen enough explorers of data in the business world! Efficient managers and analysts use the guided Holmes approach to direct their efforts and look for answers that are relevant to the problems at hand, thereby finding gold nuggets and delivering a financial impact to the organization. In this case, you, the smart manager, can follow the clever Holmes approach and save your company millions by identifying and replacing the faulty valve in a few days!
To learn more about the detective approach to analytics, download this whitepaper on Aryng's five-step analytics framework for moving from data to decision. We elaborate on how hypothesis-driven analysis helped us identify $120,000 for a $1 million winery in just two hours!