As
I wrote yesterday
, Milwaukee-based
Aurora Health Care
is a forward-thinking, patient-centric, not-for-profit aggressively working to manage the business of caregiving based on its data. Proof of success: Business users across the organization now expect daily refreshes of metrics when not so long ago monthly reports suited them just fine.
It's been an evolutionary process that has seen the spread of analytics' influence from care management into finance, marketing, supply chain management -- really throughout the provider's entire ecosystem, Dave Brown, senior director of Aurora's enterprise BI team, told me in a recent interview.
"We're helping everybody understand the data they generate and how they can leverage that information in their decision-making processes, and we're pushing forth a key-performance-indicator approach to managing specific parts of the business," Brown said. "Doing that, of course, requires data and a process for feeding them that information on a regular basis."
And that required Brown's team to reconsider its enterprise BI stack, which had been "legacy Oracle through and through." That environment comprised Oracle Warehouse Builder on the front end, for pulling data from Aurora's transactional systems; Oracle Database 10G, for housing the data; Oracle Business Intelligence Discoverer, for reporting; plus lots of Unix scripting and hand-coded batch jobs.
The team made a "conscientious decision" to reevaluate that aged stack and, in doing so, determined that a massively parallel processing (MPP) architecture was the best option for carrying Aurora into the future. "MPP technologies really hold out a lot of promise for us in dealing with types of structured and unstructured data that our organization generates," Brown said.
It decided on Aster nCluster, now Teradata's Aster MapReduce Platform, and became one of the first organizations Teradata Aster worked with on pushing an entire enterprise data warehouse (EDW) and data marts into a sole repository. The Aster MapReduce Platform features embedded analytics and supports SQL as well as MapReduce, enabling creation of a hybrid enterprise BI environment, as shown below.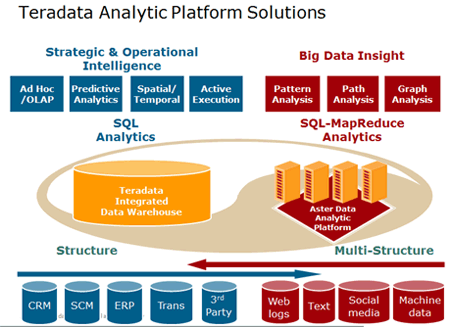 For Aurora, cost was the No. 1 motivator, with linear scaling across commodity hardware allowing a significant savings over a traditional symmetric multiprocessing environment. The new platform costs about one third less than the legacy environment, but processing on any query mix is roughly 25 times to 35 times faster -- "and that's really exciting," Brown said. "For less money we get better performance and capabilities and move into a richer analytics space as well."
Because, as great as the reduced spending is, Aurora needed to look at those future capabilities, too. "Certainly, we also see the technology enabling us to look forward and get us where we need to be with real-time analytics across our datasets so we can do really hard-core analytics across some of our hardest problems -- hospital readmissions, length of stay, and fraud detection."
As I discussed yesterday, Aurora has created a master patient index, where all activity related to an individual from across all its systems gets compiled in the EDW. This patient data sits on top of the MPP platform, and MapReduce gives Aurora the ability to churn through its data "at a much higher order in an approach that's cost sensitive to our healthcare budget dollars," Brown said.
And that's a good thing, given that the business has indeed caught on to the value of data-driven decision-making.
"We can barely keep up with all of the requests that are coming in. We're constantly hearing, 'We heard you were doing this project with readmission analytics, we'd like you to work with length-of-stay analytics,' or 'We heard you were working with our inpatient folks; we'd like to work with our clinics and really understand our physician referral patterns and how we might better manage that process,' and so on."
How does your organization, healthcare-related or not, compare to Aurora in terms of business user acceptance of analytics? Share on the message board below.