As President Barack Obama and Governor Mitt Romney square off against each other tonight in the first of their three debates, the airwaves will be abuzz with pundits analyzing what each says and how that might affect the election outcome. You can judge for yourself or follow along with the analysis, but I, for one, will wait for the hard numbers to tell me who bested whom.
For surely the polls will tell that tale.
To get my data, I'll be heading to Election Analytics, self-described as a "Web tool that tracks and analyzes polling data to forecast who will win the upcoming November 2012 elections." As I write this post, looking at the latest available data, for yesterday, Oct. 2, I can see that if the election had taken place a day ago the Obama team would probably still be raising champagne toasts at the moment. Any way you slice the data, and even if swing states vote heavily Republican, the tool forecasts Obama as the victor.
The infographic below shows one slice of the data, for five days. You can also see results in histograms, sliders, and over longer periods. Election Analytics is tracking Senate races, too.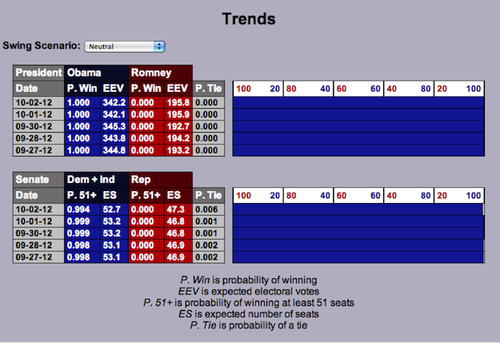 The data is only as good as the last poll results -- so this could change come tomorrow, post debate, as
Sheldon Jacobson
, co-creator of Election Analytics, told me in a phone interview last week. He recounted the 2008 election, when in mid-September the Election Analytics tool showed candidate Sen. John McCain having a sizable lead over Obama. "But by the end of September, that lead was gone and McCain never caught back up," according to the tool results.
That's to say, as election day draws closer, the Election Analytics forecasts turn into actual predictions. "Things start to get really interesting three weeks before the election -- that's when the rubber meets the road," said Jacobson, who is a computer science professor with a specialty in operations research at the University of Illinois in Champaign-Urbana.
The tool becomes most valuable heading into the election, he noted. As the polls change, Jacobson and his team "synthesize and analyze and run the data through our models." Those models, as demonstrated in 2008, seem pretty solid: Election Analytics accurately predicted results in every state but Indiana And even that didn't surprise the team, he told me.
"We looked at the tough states to forecast -- we had a group of really, really close states -- and we knew we'd get it wrong on one of them. We knew one of the states would flip, but we didn't know if it'd be, say, North Carolina, or Missouri, and it ended up being Indiana."
So how, you're probably wondering, as was I, does Election Analytics get it so right? The key is dynamic programming and sophisticated algorithmic techniques, said Jacobson, without revealing too much, of course. Here's a bit of info from the site:
The mathematical model employs Bayesian estimators that use available state poll results (at present, this is being taken from Rasmussen, Survey USA, and Quinnipiac, among others) to determine the probability that each presidential candidate will win each of the states (or the probability that each political party will win the Senate race in each state). These state-by-state probabilities are then used in a dynamic programming algorithm to determine a probability distribution for the number of Electoral College votes that each candidate will win in the 2012 presidential election. In the case of the Senate races, the individual state probabilities are used to determine the number of seats that each party will control.
You can read more about the methodology, including how polling data for each state is weighted and how Election Analytics takes into account swing scenarios, here. In addition, if you happen to be attending the Institute for Operations Research and the Management Sciences (INFORMS) annual meeting in mid-October, you can catch Jacobson in person as he'll be presenting on US presidential forecasting.
And, of course, be sure to head back to Election Analytics tomorrow, and then again following the Oct. 16 and Oct. 22 debates, as they're sure to shift the polls, Jacobson said. But back to today, the tool shows Obama would have won an election held yesterday with a 1.000 probability, capturing 342.2 electoral votes.
Do you trust Election Analytics results and other forecasts? Share below, and take our quick poll on the subject at the right.