If I ask you to imagine a New Delhi street scene, you'd likely picture bustling chaos with, inevitability, motor scooters zipping every which way. But are analytics and empathy in your mind's eye? They ought to be.
You see, Hero MotoCorp, the world's largest producer of two-wheeled vehicles, likely made many of those motor scooters you envisioned. And, as we learn in a recent MIT Sloan Management Review article, "The Benefits of Combining Data With Empathy," Hero MotoCorp stands out among companies in its use of "evidence-based empathy grounded in data analytics."
Right about now, if you're like me when I first read that phrase, you're probably wondering, "Huh? What the heck is that?"
That, authors Ritu Agarwal and Peter Weill explain in the piece, is an approach through which companies apply data compassionately in response to opportunities and risks -- a particularly valuable strategy in volatile environments. In New Delhi, for example, Hero MotoCorp supplemented its basic customer relationship management data with a compassionate program aimed at facilitating purchases by females, a rapidly emerging market opportunity, the authors said. Agarwal, who is a professor and the Robert H. Smith dean's chair of information systems at the University of Maryland's Robert H. Smith School of Business (as well as founder of its Center for Health Information and Decision Systems), and Weill, who is a senior research scientist and chair of the MIT Sloan School of Management's Center for Information Systems Research, explained:
Young women, who were entering India's workforce in droves, were uncomfortable, even intimidated, about shopping for motor scooters. Some were concerned about how they would look astride a scooter. In response, the company designed a new product and a new program called 'Just 4 Her,' with its own showrooms staffed by women. Female customers can view how they look on the scooter behind the privacy of a curtain.
Would a manufacturer serving well-established markets in Asia, Europe, or North America go to such extremes to make potential customers comfortable? Would they think twice about wrapping up their data with empathy? I would say not.
Certainly companies are finding the need to balance gut, or instinct, with data; to develop an analytics culture; and to turn CRM programs into customer experience management programs. But I don't believe I've encountered any that would say they're thinking about data empathically. Agarwal and Weill put it this way: "It seems that many large companies have become so focused on optimizing their business processes and systems that they have become all too willing to forget about cultivating emotional connections with customers."
They caution that companies that place too much emphasis on process and systems could find themselves in a precarious position when trying to deal with unpredictable global business environments.
In order to detect and respond to shifting customer needs, companies need to show more, not less, empathy with their customers. Some companies have found an approach that achieves that -- one that joins three important capabilities: the ability to optimize business processes and technology, the ability to foster emotional connections and the ability to use data empathically.
They call this approach "softscaling." As you can see below, comprises optimizing business processes, informed empathy, and nurturing of the emotional connection.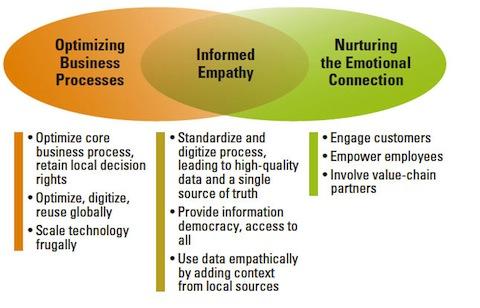 I won't delve into softscaling here, but it suffices to say that "The Benefits of Combining Data With Empathy" is a fascinating read and well worth your time -- whether you're thinking about the challenge from a business or analytics perspective. The authors give us lots to think about -- so much so, in fact, that we've invited Agarwal and Weill to join us for an e-chat on empathic data use. Mark your calendars for Wednesday, November 14, at 3:00 p.m. ET, and get your questions ready. We'll be chatting here.
And in the meantime, share your thoughts on empathy and data analytics below. Does the idea resonate with you?