Andy Kirk, data visualization architect, wants you to understand this basic point about data visualization: While it's popular and relevant today, it's not new. What is, though, are the opportunities and challenges associated with it.
The potential resides in providing new insight and understanding from the masses of data organizations now collect. For analysts, the challenge is in enhancing "the power of the data to create very compelling, unique, and attractive visual portrayals," Kirk told attendees of last week's All Analytics Academy session, "Get Visual: Changing the Delivery Model With Real-Time Visualizations."
"Compelling" is the word that most jumps out at me. Data visualizations must, I agree, evoke strong interest and attention in the insights they deliver. And they must do so in a way that makes the insights irrefutable -- trustworthy, let's say.
Kirk encapsulates these ideas in his definition of data visualization, one he says he "stole" from the best minds on the subject: "Data visualization is the representation and presentation of data that exploits our visual perception abilities in order to amplify cognition."
He quotes John W. Tukey, an acclaimed statistician and scientist, to further that latter point: "The greatest value of a picture is when it forces us to notice what we never expected to see."
In other words, data visualizations should give the business something of which to sit up and take notice -- fresh insight. But data visualization is nothing without statistics, notes Kirk, who runs the popular data visualization site, visualisingdata.com. "To truly learn about data, you need these two things in harmony. You need statistics to describe data, but then visualization to see it in context."
Kirk proposes a methodology for doing just that, a workflow "to give you the most effective and efficient way to approach making sense of your data, find stories in the data, and present and convey those stories to others." At the core are four objectives he says apply across all types of data visualization projects -- "big, small, complex, simple."
The first objective will be familiar to anybody with even an inkling of design principles: Strive for form and function. This objective, like data visualization itself, isn't new. But applied here, this is about grabbing people's attention aesthetically, and then once they're on board, provide something functional -- something "that makes people feel like they've learned something," Kirk explains.
The second objective is to "seek to create accessibility into a subject through design that is as intuitive as possible."
This can get a bit tricky because of how complicated some subjects can be. Toward that end, Kirk advises, analysts must realize the difference between simplicity and clarity:
What we want to do is focus on the clarity because some things are inherently complex. Sometimes the way we portray data is unusual and different, but we need to trust the fact that people can learn these things, that they can learn how to decode these portrayals of data. And what we're trying to do is create a portrayal of the subject matter that really captures the essence of that data, that data framework, and the story that we're trying to tell, which sometimes means things aren't necessarily instant. But as long as we keep in mind that people need to root into our subject, through clarity and accessibility of design, that is something that makes success.
The third objective, for designers, is to be confident in the ability to justify the inclusion, exclusion, and deployment of every design property used. Sometimes, Kirk says, visualizations simply aren't necessary. As a case in point, he points to Google Zeitgeist 2011: How the World Searched, an interactive, animated visualization tool (one slice captured below). "This is an example of where we've got a fancy, very technically impressive piece, but it serves no purpose in making this data any more insightful or anymore accessible." As such, Kirk adds, it doesn't function as a visualization.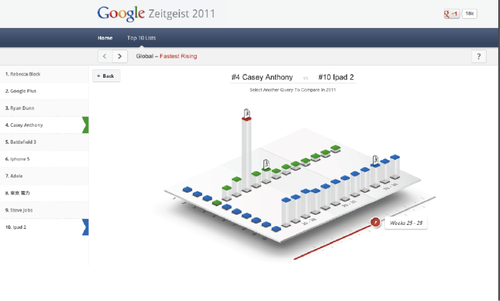 Lastly comes objective No. 4: Never deceive the receiver. This is about the ethics of data visualization. Plain and simple: Don't distort the truth, even if the numbers you're portraying are hardly world-changing.
While these four objectives are a great starting point for analytics professionals entering the world of data visualization, they brush just the surface of the material Kirk presented in his All Academy session. I highly recommend listening in on the lecture and following along with the accompanying slides; you can find both archived here. It'll be 40 minutes well worth your time.
Anybody have any data visualizations to share? Great visuals you've produced to deliver business insight? Post them below.
Related posts: