If you haven't heard it enough lately, let me say it one more time: Data visualization is your analytical future. And lest you're growing tired of my two cents, let me add another voice to the message: that of James Lin, Executive Vice President and Chief Risk Officer at Cosmos Bank.
"This is an era of visualization, so we should provide senior management with eye-catching tables and charts that help them quickly grasp the situation and make informed decisions," Lin told me in an email interview.
And corporate leaders ought to have access to these data visualizations -- the latest insights -- instantly. They should be able to pull them up on their PCs or tablets so they can better assess situations and ask key questions, rejiggering the data to "run their own analyses and generate, without requiring extensive IT support, their own reports, dashboards, and visualizations simply by clicking or drilling into items of interest."
Actually, there's no "should" about it. At Cosmos, this is happening now.
The banking services provider began implementing SAS Visual Analytics, an advanced analytics tool that allows interactive data exploration, in the third quarter of 2012. Giving the senior management team prompt access to the information it needed for business decisions was one of four business targets, Lin said. A second goal involved a different set of users -- major Cosmos shareholders and board members. "We want to provide them... instant grasp of the bank's operations through visualized management reports on a PC or tablet."
Overall, Lin said, data visualization fit into Cosmos's desire to create a high-performance analytics environment and deliver real-time discovery capabilities. Cosmos, like so many other companies the world over, is searching for ways to get the most from its data stockpiles. "We want to be able to dive into our big-data for up-to-the-minute customer intelligence for business development and risk management," Lin said.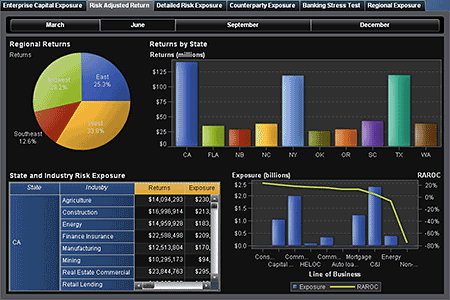 Cosmos is the largest issuer of cash cards in Taiwan, with some 560,000 cards in circulation, representing 57 percent of the market for cash loans. It's been accumulating data on cash cards since 2003 -- data such as monthly customer snapshots; transaction records for applications, underwriting, drawdowns, repayments, delinquencies, write-offs, recoveries, and so on; and periodic, routine bureau data inquiries, Lin said. Transaction volume is "massive," he added: An average five transactions per customer monthly amounts to more than 300 million transaction records accumulated in the data warehouse.
Under the Visual Analytics environment, Lin's risk management analytical team handles the maintenance of the data visualization platform and the "generation, calculation, and preparation of original transaction data." Meantime, the risk management portfolio managers "are responsible for the analysis of asset quality, generation of reports, and strategies/measures to be taken based upon the findings of the trend/analysis."
Previously, when those folks needed portfolio analysis, they requested the reports from the analytical team. Now, they can do more thorough analysis themselves and get to insights more quickly -- a business imperative. "Timing is key to turning big-data into meaningful analysis," as Lin said.
While portfolio managers get the information they need quickly, the analytical team members who have SAS coding and programming expertise get better use of their time, too. They're able to focus on the more sophisticated model building and fine tuning.
And back to that corporate leadership. Senior management's mandate is to base decisions and strategies on the information coming out of Visual Analytics, Lin said. The business model is proving successful, so much so that a task force established under the CEO's office is charged with duplicating risk management's visual analytics success story in MIS and business and customer development, and with consolidating Cosmos's MIS into a "consistent bank-wide reporting infrastructure and template under SAS VA."
That ability to centralize and integrate the IT infrastructure is a prime benefit, but so too is this, he said:
We can process and analyze each transaction throughout the month for a more accurate view of each customer's behavior. The ability to analyze big data in real time enables us to gain customer insights that help us design and offer the right mix of products and services at the right time, which leads to winning new customers and keeping existing ones happy and loyal.
It's hard to ignore that, don't you think?