We hate to love our customer loyalty cards, knowing as we do that we coughed up personal data to get them.
This much is clear
. What's not so obvious is the implication for retailers.
If we're using our loyalty cards begrudgingly, then are we really so loyal after all? If we're splitting up our shopping among umpteen different stores, some being competitors, how can this possibly be reflective of loyalty to any one retailer? Does the ubiquity of availability and use diminish a retailer's chance of differentiating itself based on its loyalty card program? Does our "loyalty," as demonstrated through program involvement, lead to increased sales?
You'd think questions like these are significant to retailers, and answering them a top priority. But that's not necessarily so. Loyalty card use -- loyalty itself -- doesn't really matter to many retailers. Sales be damned, in other words.
What retailers are really after is -- yes, you guessed it -- the 4-1-1 on you. Customer information is the real cha-ching, even if many don't know how best to use it yet.
As I mentioned in yesterday's post, We Know Better, But Still We Love Loyalty Cards, SAS (this site's sponsor) and Conlumino, a retail research agency and consulting firm, recently surveyed 2,109 consumers and 100 UK retailers about loyalty card programs. The "Retail Loyalty and the Consumer" study, which is considered to be reflective of global retail trends, showed that a high percentage of retailers -- 72 percent -- feel they must have some sort of loyalty program in place. Such programs, retailers indicated, are most effective at dishing up consumer information and least effective at driving sales, as seen below.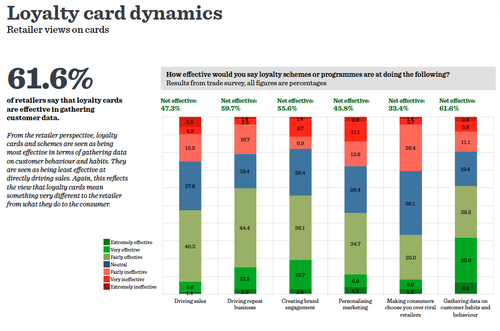 Ask most any retailer today, and it'll tell you that an overriding goal is to get to know a shopper as a whole, seamlessly across channels, in order to craft highly-tailored experiences for that individual. While everybody has analytics for their online stores, the growing recognition among retailers is that the loyalty card is a great tool for collecting information about a consumer's in-store behavior, said Neil Saunders, managing director at Conlumino, in a phone interview. Match up the two, and ultimately add in mobile data, and suddenly those personalized experiences transcend channel. That in-store, online, or mobile sales increase then becomes an indirect result of the loyalty card program.
Saunders pointed to Tesco, a global grocery and big-box retailer known for its use of advanced marketing analytics, as an example of one company that's doing this well today. "Tesco has done a good job of going a step further with customer view, showing a product bought in store under 'Favorites' online," for example. Having the loyalty card to provide the consumer's in-store behavior, helps "it make the customer journey very smooth."
The SAS-Conlumino study shows that this cross-channel integration may be starting to work to Tesco's benefit. While consumer respondents largely indicated they feel no emotional connection to any retailer, those who did acknowledge any such sentiment named Tesco more than any other retailer. Tesco got a nod from 19.4 percent of respondents, while Boots, a pharmacy-led health and beauty retailer, followed at 16.9 percent. Clothing retailer Marks & Spencer, and grocer Sainsbury's, earned points for emotional connection with about 15 percent of respondents each.
So, now I'm thinking about those loyalty cards I carry around with me. Do I feel an emotional connection to any of the retailers involved? If I had to pick one, I suppose it'd be Dominick's, one of the local grocery stores I frequent -- but not because it has a cool loyalty card program (even though it does) but because it's been a part of my life since childhood, as that's where my mom always shopped. Even as an entity of a much larger chain now, Safeway, Dominick's will always have a piece of my heart as part of my personal history -- not to mention Chicago's.
And, again thinking about those cards I tote around, if I were to pick one among them that I'd like to see give me a personalized cross-channel experience, I'd have to go with the Target REDcard. But then I've already groused about the lack of seamlessness there: Retailers Slogging Away at Omnichannel Goals.
Do you take any offense in retailers not really caring if you care about them or not? Which retailers would you like to see give you a seamless and highly customized shopping experience, thanks in part to a great loyalty card program and advanced analytics? Tell us below.
Related posts: