Making decisions based on data delivered from sensors anywhere, let alone the ocean's fathoms, can be, well, as hard as fathoming the ocean. But being able to visualize that data and what it's telling you can make the situation far less daunting.
That's the hope Tom Moroney, deepwater technology deployment manager, holds out for advanced, interactive data visualizations at Shell Upstream Americas. "The visual presentation of information is very much a part of our journey," he told me in a recent phone interview.
Regular All Analytics readers will be familiar with Shell Upstream America's analytical journey from my earlier posts, Shell Taps Big-Data From Way Down Deep and Shell Cautions Patience on Analytics Adoption. Moroney, who heads a technology team responsible for providing geoscience expertise for Shell's deepwater portfolio in the Gulf of Mexico and Brazil, is overseeing the evolution of analytics-based decision making from one-off and person-dependent to automated and pervasive. His team has already seen the acceptance of event-based correlation among decision makers, and is currently working on the adoption of predictive analytics and advanced, forward-looking asset manager.
As discussed previously, SAS Predictive Asset Maintenance software (from this site's sponsor) is a critical component in its efforts to work through the data gathered from its deepwater deployments to get ahead of troubles that might affect performance. SAS Visual Analytics, Moroney said, seems a logical next step, and so his team is looking into the advanced visualization software.
"We feel data visualization is part of creating the right situational awareness for engineers and operational personnel, providing visual context for the business problems needing to be solved," he said.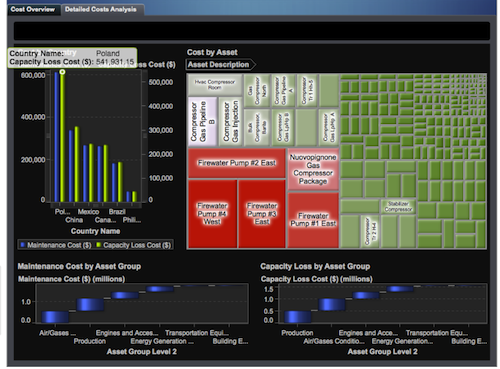 Visualization already is an important feature of the company's event-based surveillance. For example, an alarm console provides a real-time look at all the active alerts across Shell Upstream America's deepwater portfolio in the Gulf of Mexico and Brazil. From a collaboration center, engineers and operations managers can instantly see where the big events are and what their impact might be, said Moroney, explaining that his team subscribes to lean production concepts. In addition, the team tracks how much value was protected or added by analyzing the number of alerts and time to resolution.
With the intent of extending the scope of its data visualizations, Moroney said the team is working with SAS and looking at its approach to visual analytics and event-stream processing. "We're beginning to use some fairly intense statistics and we don't want just to be looking at events but patterns and the emergence of patterns in real-time."
Being able to spot patterns as they emerge will be "extremely powerful for the business," said Moroney, explaining:
Moving beyond picking up events and then leaving it up to humans to string those events together and make sense of them will help us get to that a ha! moment more quickly. If we can, through the use of statistics, begin to piece events together and get trends and patterns and present them visually, we see huge potential in terms of the kinds of decision making and diagnostics, and the timeliness of that decision making and diagnostics, we can enable.
How would real-time data visualization change how your organization makes decisions and diagnoses problems? Share your pie-in-the-skies below.
Related links: