For the next several days, the retail industry will own New York, where the National Retail Federation's premiere
Big Show conference
runs Sunday through Wednesday. But does the retail industry yet own analytics?
As a consumer, you may think so -- recipient as you are of so many precisely targeted ads, product placements, and recommendations; subject of all that location tracking; and beneficiary of myriad loyalty card programs. As a data or analytics professional, you may think so, too. Retailers are oft cited for their innovative use of data and analytics, and we've featured quite a few of their stories over the years, including:
But Retail Systems Research (RSR), in a benchmark report released this week, suggests that the industry as a whole needs to get more aggressive in its data use. In particular, RSR said retailers should give more attention to predictive analytics. In the report, "Retail Analytics Moves To The Frontline," managing partners Brian Kilcourse and Paula Rosenblum wrote:
...We do feel there should be a greater sense of urgency around improving predictive analytics capabilities. We are at a point in retailing's history where the market is more competitive than ever before, and rapid responses to changes in demand can make the difference between success and failure.
Retail winners, which RSR defines as those companies with sales above the industry average store/channel growth of 3%, not only do things better but think differently about what they do. This includes their attitudes toward and use of advanced analytics, the authors said. More than half of the retail winners -- 56% -- adopted forward-thinking enterprise business intelligence (BI) strategies early on, RSR reported.
The firm takes retailers' increasing focus away from basic reporting as a positive move. As you can see in the chart below, more than half of the 130 retailer respondents RSR surveyed for this report said they consider data most important in helping to plan and execute more effectively. "It's no small thing that retailers cite data as a tool to plan and execute more effectively 30% more often than as a tool to report the results of business activities. They've recognized the value of predictive analytics over scorekeeping."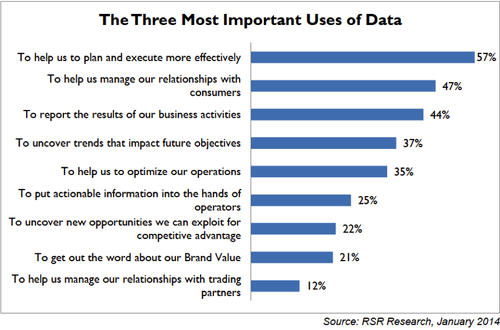 If I'm surprised by these data use findings, it's only in that "helping manage our relationships with consumers" didn't beat out strategic planning -- given how much we hear and talk about the importance of tailoring the customer experience. If I had to guess, I think we'd see a tightening in these top two responses by next year's survey, and the importance of reporting giving way to those responses that signal use of analytics for more innovative purposes.
I'd also hope to see a further shift away from the use of gut in retail decision-making. The RSR report shows that intuition still carries considerable influence "not just in merchandising and marketing, but in seemingly straightforward departments like Finance and IT," as shown below.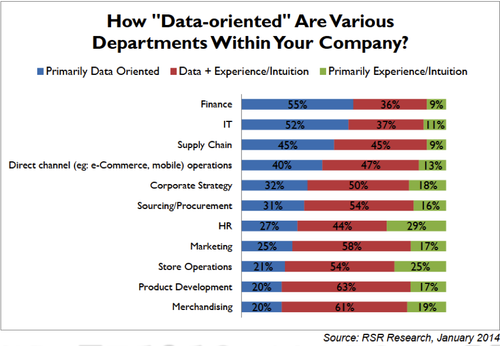 The authors point out a few noteworthy differences here between retail winners and laggards, which are those companies reporting year-over-year sales growth of less than 3%. For example, more than 40% of laggards are still merchandising and marketing solely on experience and intuition. This compares to only 10% of winners doing so.
You might assume that the largest retailers are less likely to use gut exclusively for decision-making, regardless of performance, but the RSR report tells us different. A "surprising 14% of retailers with annual revenue greater than $5 billion report they do just that," the authors said.
So yes, as savvy as we often think retailers are when it comes to analytics, they're just like every other company grappling with how to deal with all the data coming at them. RSR has some no-nonsense recommendations:
Craft an enterprise BI strategy and reduce reliance on insights gathered from transactional systems or based on instinct.
Get away from a scorecard mentality by adopting and or furthering use of predictive modeling and data visualization.
Pick analytics tools that will help lower the cost of creating and consuming the insights.
Let store employees, particularly store managers, view BI and analytics on mobile devices.
Learn about new technologies and techniques, and find integration tools for simplifying "extraction and transformation of data from both operational systems and non-transactional data gathered through search, social media, ratings, reviews and consumer commentary as well as customer mobile data such as geo-positioning."
Consider software-as-a-service options, especially if you can't get the capital expenditure allowance you'd like. "BI and analytics are too important to ignore."
Do the RSR findings jibe with your retail experiences? Share below.
— Beth Schultz,

, Editor in Chief, AllAnalytics.com
Related posts: