Philippine Relief Efforts Aided by Visual Analytics

In giving advice on how to build a compelling analytics resume, hiring managers and recruiters we've talked to at All Analytics typically include volunteer work among their suggestions. Plenty of non-profit organizations are lacking resources needed to make sense of, and get value from, their data.
Today, I've learned that SAS, this site's sponsor, is leading by example with noteworthy analytics volunteerism of its own.
Typhoon Haiyan
unleashed its fury on the Philippines. The devastation was horrific,
with USAID reporting
6,201 dead, 4.1 million displaced, and 1.1 million homes damaged or destroyed.
The situation remains dicey, at best, as the International Organization for Migration (IOM) noted in an evidence-based May report on the continued impact. As noted on the Philippine Response Blog:
Now, more than six months on, more than two million people are still without adequate shelter or durable housing, with over 26,000 living in temporary sites (evacuation centres, tent cities, spontaneous settlements and bunkhouses). Many face prolonged uncertainty about whether they will be allowed to settle back in their former homes -- most of which lie in designated "no-safe" zones -- and what plans there are for their permanent relocation, with a lack of transparent information a key concern.

In spite of the wealth of information generated, it has been difficult to form a coherent understanding of the evolving and complex displacement situation [following Typhoon Haiyan]...," says Alfredo Zamudio, director of the Internal Displacement Monitoring Centre, the reportís co-authors.
And that's where SAS, via a pro-bono pilot project, fits in.
In crises such as the one wrought by Typhoon Haiyan, IOM, an inter-governmental organization, works on behalf of the displaced -- managing shelters and coordinating operational efforts at evacuation centers, camps, and schools. Central to those efforts is a tracking and monitoring system called Displacement Tracking Matrix, or DTM.
As part of the Philippine relief effort, IOM shared DTM data with government and humanitarian partners, as well as with SAS for use in a pro-bono project using SAS Visual Analytics. Another Philippine Response Blog post described the project, which started with Excel data, as such:
The Philippines office of SAS Visual Analytics organized and analysed the data to identify shelters which faced the most critical health risks. Within minutes of the first data being uploaded, a map emerged showing shelters experiencing a dangerous mix of overcrowding, unsafe drinking water and solid waste disposal problems. This allowed IOM to pinpoint sites where high number of families still lived in makeshift shelters or dramatic growth of certain vulnerable populations in a short amount of time.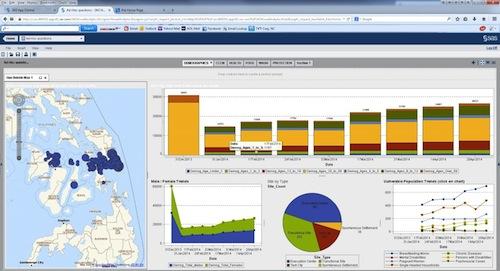 Further, as SAS described in a press release, text analysis showed upper respiratory and cold symptoms to be the most common health complaints. "But more alarming were higher concentrations of diarrhea, fever, and skin disease among older people living in evacuation centers in Leyte. The DTM-generated data was shared with local health authorities to address these health needs."
The use of Visual Analytics fit into IOM's overall goal to modernize disaster response. In a prepared statement, Ambassador William Swing, IOM director general, said:
We have been working to enhance preparedness by developing practical tools for government officials, humanitarian organizations and affected communities. The SAS collaboration provided the right tool at the right time. We, our beneficiaries and partners are all grateful for the partnership and technology.
Text analysis also came into play for assessing reports coming in via social media conversations from areas like Guiuan, where phone lines had been knocked out of service. For example, an analysis of more than 10,000 tweets "indicated total structural devastation in Guiuan," SAS said. However, the same analysis confirmed Red Cross efforts to distribute food and the presence of an Australian emergency medical team. "It further shed light on what the local hospital needed most -- essential medicines such as antibiotics and fuel for generators, so that critical hospital services could continue to meet increased health care demands."
It seems to me this is an example of volunteerism at its best -- bringing together the data-savvy with sophisticated tools enabling real-time analysis and insight into critical recovery services. Do you have your own examples of analytical-minded volunteerism? We'd love to hear your story, so share below.
— Beth Schultz,

, Editor in Chief, AllAnalytics.com
Related posts: