The results are in and the message is clear: All parts of the business are in need of analytics help.
In our recent quick poll, we asked the AllAnalytics.com community to the tell us whether their customer relations, finance, human resources, marketing, or supply chain operations were most in need of a boost from analytics. Marketing captured the greatest number of the 98 votes cast, with 22 percent of all those responding selecting it as their top area of pain. But that was followed closely by our "All of the above," choice, which garnered 20 percent of the vote, and finance, at 18 percent.
After marketing and finance, specific operations in need of analytics help are human resources, customer relations, and, lastly, with only 6 percent of the vote, the supply chain, as the pie chart below shows. Five percent of the voters weren't sure which direction to turn to first, while another 2 percent indicated analytics would be most beneficial in some other part of their organization not explicitly mentioned in the poll.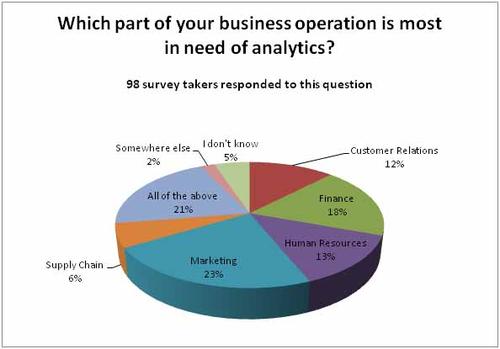 Surprised by these results? You probably shouldn't be.
On the message board, community discussion on the poll suggests a preference for first applying analytics in the supply chain or finance operation. Since these are indeed two common starting points for analytics, it's quite possible that many responders work for companies already employing analytics in these highly critical areas.
But why is marketing at the top?
Well, for one thing, the rapidly growing field of Web analytics is almost wholly devoted to it. Practitioners of Web analytics, and their counterparts in search engine optimization, operate with the idea of tweaking Websites to make them more appealing to search engines and users. They then measure those results through a variety of analytics tools so that the Website's impact and, ideally, its conversion of visitors into customers can be further enhanced.
Also, as social media consultant Joe Stanganelli points out in his blog post, The Beauty of Sentiment Analysis, Web watchers have some weird and wonderful theories about what we may be able to determine from analyzing the semantics of the messages zipping through the growing social media continuum. (In a counterpoint blog post, however, Web analytics consultant Pierre DeBois cautions that folks trying to analyze social sentiments today may be getting ahead of themselves.)
But even beyond these areas, marketers can certainly tap into analytics to help identify trends and patterns in the physical world that could help them determine what new markets to enter or new business models to pursue.
As you're mulling over these results, won't you take a moment to share your thoughts about where analytics can really make a difference for companies? Join the discussion below.
And, while you're at, please take the time to participate in our new quick poll, Mathematical Analysis, and let us know what analytics techniques you find most useful at your company. And feel free to email or share it with a friend!