A recent survey suggests text mining is on the increase among data mining professionals.
In the 4th Annual Data Miner Survey conducted by Rexer Analytics, more than half of data miners have added or are adding text mining to their arsenals.
"About a third of data miners currently incorporate text mining into their analyses, while another third plan to do so," wrote Karl Rexer, company founder.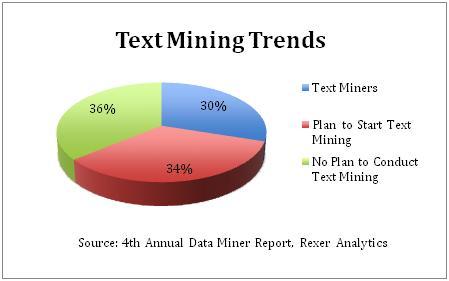 In another recent report, Seth Grimes, founder of business analytics strategy consulting firm Alta Plana, indicated text and content analytics grew by 25 percent last year and is expected to grow at a similar rate over the next two years.
Text analytics and text mining are similar, Grimes said in an email.
"Ninety-eight percent of users don't see a significant distinction between text mining and text analytics. Most users now identify the technologies under the 'text analytics' label, and it's mostly folks from a data-mining background who use 'text mining,' as an extension of data mining to text."
As a result, the increase in text mining identified by Rexer and the overall growth of text analytics are part of the same trend, Grimes insists:
So everywhere 'text mining' is used in that excerpt, folks other than data miners would have used 'text analytics' and would see an affirmation of the growth of text analytics.

To be clear: the growing incorporation of text into data-mining efforts and the use of data mining techniques for analysis of text is, for 98 percent of the world including me, a statement about text analytics.
And there is more. In his report, Grimes concluded social media analytics were a major driver of the trend -- a conclusion that seems to be borne out in the data mining survey.
In the Rexer report, more than half of the respondents indicated the focus of their data mining efforts was either sentiment analyses, a main focus in social analytics, or social network analyses.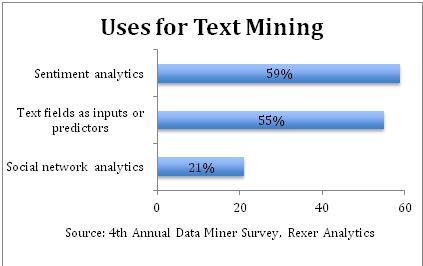 However, Marshall Sponder, author of Social Media Analytics: Effective Tools for Building, Interpreting, and Using Metrics and an AllAnalytics.com blogger, worries that many moving into this field may, at first, be disappointed.
"As 90 percent of social analytics data consists of unstructured information, most text analytic implementations prove to be unsatisfactory in addressing the increasingly sophisticated needs of social marketers," Sponder says. "With structured data, text analytics are much more useful, and I believe this is what the studies cited here are based on.
"It could be that as more people evolve in their sophistication for analytics it will force the text analytics platforms to improve in their capabilities with unstructured data to match what they are able to achieve more easily with structured information."
Are you using text analytics? If so, are you doing so for structured, unstructured, or both types of data?