Data used to create matches on dating Websites lacks sufficient dimension to predict successful relationships, say bloggers and members of the AllAnalytics.com community who
chatted Friday
about research suggesting the limitations of the data in these instances.
For one, data collected from users who sign up for such sites only reflects a "snapshot" of each individual at best and cannot predict the success of a relationship with the many variables that it may bring, said Ariella Brown, an AllAnalytics.com blogger. Brown, who posted recently about studies delving into the effectiveness of online dating, said the problem occurs when we ascribe too much value to the matches resulting from personal data posted on dating sites. More telling on the success of a future relationship would be data collected by watching couples interact, said researchers Brown cited in her post. Dating sites, however, fail to take such measurements.
Other chat participants simply doubted the personal data collected would be sufficient to predict a successful relationship or even "chemistry" between two people.
AllAnalytics.com blogger and social media analytics expert Marshall Sponder, who has struggled in his own work with the limits of data available to draw meaningful conclusions from the social Web, complained that too many variables exist in human relationships to make meaningful predictions from a collection of personal data.
"No algorithm can fully predict how well two people will get along because much of the data is ultraviolet [unknowable] by any system," Sponder said.
He suggested another problem might arise from the quality of the data site participants supply in the first place. Perhaps not all users could or would be objective enough when providing information in their profiles to make accurate matches possible.
In a recent AllAnalytics.com poll, only about 24 percent of respondents said they believed dating sites' algorithms capable of identifying their "true love," while about 35 percent didn't believe them any more effective a dating tool than a visit to a singles bar.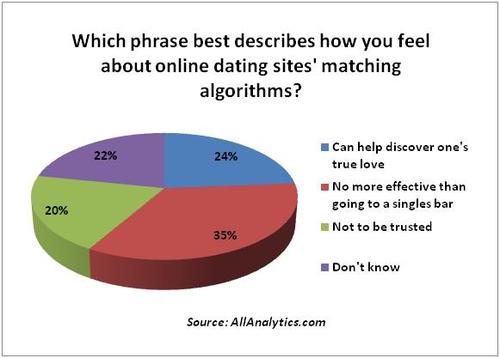 But participants in our live e-chat disagreed with the assessment that low predictability of successful relationships made the algorithm of no value.
"To be fair, it is better than a singles bar, and the singles events that a friend of mine described to me sound like nightmares," Brown said. "Introverts, in particular, would probably find it easier to initiate contact online. One just has to realize that the real test will come in person."
"It could be a problem of defining the objective function," added AllAnalytics.com blogger Cordell Wise. "Do you really expect a successful relationship from a dating site, or is it enough to increase the odds of such?"
What do you think? Can analysis of a collection of personal data really help predict a successful relationship? Leave your thoughts in the comment section below.