Metrics and their graphic expressions most commonly identify success/failure (evaluative metrics), or predict the future (predictive metrics), but a third function, understanding the game (structural metrics), is too often neglected.
For example, here's a simple structural metrics graph of the current situation in the American presidential race between Barack Obama and Mitt Romney.
This diagram depicts the situation on about August 1, 2012: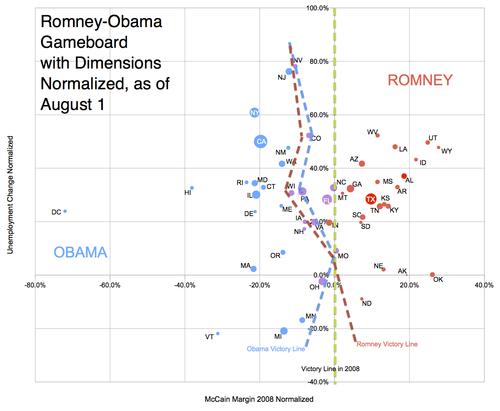 Basic representation:
The diagram places the states between a Republican/red "home territory" in the upper-right corner and a Democratic/blue home territory at lower left. The closer a state is to a home territory, the more committed it already is to that party. Already-firmly-committed states are shown as red (Republican) or blue (Democratic) circles. Swing states, which were too close to call in the June 2012 polls, are purple circles. The areas of the circles are proportional to a state's electoral votes, with the largest number being California's 55 and the seven smallest, three. Obama's blue circles represent 217 electoral votes; Romney's red circles represent 181; swing (purple) states total 140.
Horizontal axis: The best single predictor of a state's vote is the margin (number of votes by which the winner won) in the previous election. Since the diagram expresses Republican as "to the right," this means John McCain's 2008 margins are counted as positive numbers (and Obama's margin as "negative McCain.")
Vertical axis: The best predictor for a state to switch parties is change in unemployment since the last election (unemployment in June 2012 minus unemployment in November 2008). High positive values favor the party out of power (so the Republican direction is up), and low positive or negatives favor the defending party (more Democratic equals down).
Normalization: Numbers are not the actual values but the proportionate distance between their minima and maxima. This preserves the relationship between the points, but scatters them across the whole graph instead of bunching them in the middle and making them unreadable, and compensates for the very unequal ranges of the vertical and horizontal axes, equalizing their visual weight.
Victory conditions (dashed lines): It takes 270 electoral votes to win, so Obama needs to win 53 electoral votes in the swing (purple) states; Romney needs 89. Obama won everything left of the vertical green dashed line in 2008. The blue and red dashed lines enclose the smallest number of the closest swing states to their respective upper right/lower left home territoriesneeded for each candidate to win. Where there are multiple ways to win (Obama could win with Pennsylvania or with Missouri plus Virginia, Romney with Pennsylvania or with any two of Missouri, Virginia, or Wisconsin) I've drawn the line through the state dot.
Again, this structural metrics graph neither shows who won nor predicts who will. It depicts what each side must do to win, and thus explains many things about both campaigns:
The hardest fought battlegrounds, the must-win/must-not-lose areas for both sides, are in the region where the red dashed line is left of the blue. Here's a blowup of that area.

Neither campaign can neglect any purple states, but right now their top priority has to be to nail down Virginia, Missouri, Pennsylvania, and Wisconsin. Expect to see wall-to-wall campaign ads in those states.

Internal, eyes-only polls in campaign organizations are taken more frequently and done more accurately than anything reported in the media. The only way to know what those secret polls are saying is to watch campaign behavior. If the struggle intensifies in a purple state that had been outside the central battle zone, the state or the battle zone has moved. So if we start to see a substantial shift of either campaign's resources toward Ohio, Romney is winning -- he's likely already captured the electoral votes he needs in that middle territory. Likewise for Obama if we see a shift of the struggle into Florida or North Carolina or both.

Change in unemployment expresses vertically. If the bulge of purple that marks Romney's main chance improves economically, those states will drift downward into blue territory, handing Obama an easy victory. Conversely, rising unemployment will make the battleground tougher for Obama but because he doesn't have very many large or important states directly under the purple bulge it would only take a small economic improvement to greatly improve his position. It would take major deterioration to really help Romney. Expect the Obama campaign to trumpet any improvement at all, and expect Romney to play the economic card, but if it's all he's got, he's in trouble.
Again, this is not a forecast or an assessment. This is a graph of structural metrics, not saying who's going to win, but how he will win (whoever that turns out to be). There are many more things to be seen in this, which we can kick around in the comments. In the spirit of the graph, try not to pick a winner so much as to see what the winner will have to do. What do you see in this?