Thanks to
a previous AllAnalytics.com post
, we already know that computational search engine provider Wolfram|Alpha offers insight into personal data. Extending its mission, the company now offers a Facebook app that lets you see your profile with stats and facts all graphed out.
Check it out for yourself: Simply enter "Facebook report" in the search box you see here and follow the subsequent directions. The app takes about a minute to load the data, which, it informs you, is cached for one hour. Of course, for the app to work, you give it permission to dig into your data and that of your friends.
For me, the first piece of personal data Wolfram|Alpha serves up is wrong -- through no fault of its own, though. The app has no way of verifying that what a person entered into the Facebook profile is correct. My profile doesn't display my birthday, though I must have been asked to input something when I signed up. So the data appearing in the Wolfram|Alpha visualization doesn't correspond to the month, day, or year of my actual birthday.
As others may have done the same, you do need to carry a few grains of salt to add to any data you get about your friends' ages. Wolfram|Alpha tells me, for example, that I have two friends who are older than 100, with one of them claiming the truly venerable age of 109. I have some doubts about this.
What's interesting, though, is what the app seems to consider adequately representational when presenting stats about friends. It based its breakdown of gender on 732 out of 876 friends, which makes me think that perhaps 144 of them just didn't check off the category. On the other hand, 363 friends factor into the relationship status, 262 for the hometown information, and only 224 for the age information.
The app uses a much greater sampling to offer me the breakdown of friends' first names. Based on 751 names, Rachel emerges as the most common, with 14 friends sharing that name. (Coincidentally, I have a daughter by that name, as well, but she's not on Facebook, so she does not add to the count.) The friend network graph also draws on a larger sample, identifying where 738 of my friends fit into categories of relationships, like those connected through a school, business, or friends connected through mutual friends.
Here's what my cluster looks like: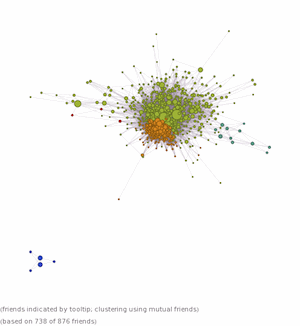 For the individual who just loves to share even the meta-data on sharing, Wolfram|Alpha offers "Clip 'n Share." This feature lets you turn specific graphs on your report into permanent, sharable pages. While I don't tend to such sharing myself, in the interest of testing the feature, I set one up for this pie chart showing the ratio of links to status updates to uploaded photos:

Along these same lines, a beta version of an app for visualizing Google+ posts came out in July. Developers of this app, called NOD3x, seem to be planning to expand the app's scope too -- the NOD3x Google+ profile update alluded to a LinkedIn dashboard that's in the works. NOD3x allows individuals to view their graphs with or without names, though they are not as easily shared with a click as the ones on Wolfram|Alpha.
If I were to venture a prediction based on all the data here, I would say that someone will offer an app that visualizes your activity and sharing on multiple social media channels side by side. That's what SumAll offers businesses: an assessment of the effectiveness of social media efforts in relation to online traffic and sales. It includes Facebook activity, but only for pages, not individuals. However, for those who market themselves through their individual pages, a personal Facebook page report is not just a matter of fun but a matter of business strategy.
Have you played with these or other apps aimed at providing you an easy way to visualize your online personal data? What'd find out? Or do these seem like a waste of time? Share on the message board below.