Big-data analytic solutions can provide brick-and-mortar stores with the same kinds of insight online tools provide to e-tailers. Physical stores gather data from loyalty cards, in-store cameras, smartphones, and even smart carts. Now,
Synqera
, a retail technology startup, has added facial recognition technology to the arsenal.
Saint Petersburg, Russia-based Synqera delivers customized marketing content for customers at the moment of decision. In July, according to a press release, it began piloting ďintelligent retail technology" that leverages big-data and real-time customer response in partnership with Ulybka Radugi, one of Russia's largest cosmetics chains.
Synqera sells software for checkout devices or computers that can personalize marketing messages based on a customerís gender, age, and mood, measured by facial recognition. How does it work? Synqera gathers data about customers from sources like loyalty cards and combines it with real-time information -- like the items in a shopper's cart and the shopper's facial expressions.
It then applies analytics to create a personalized promotion on the spot, which can be delivered in the store on video displays, or outside the store on the customerís smartphone or mobile device.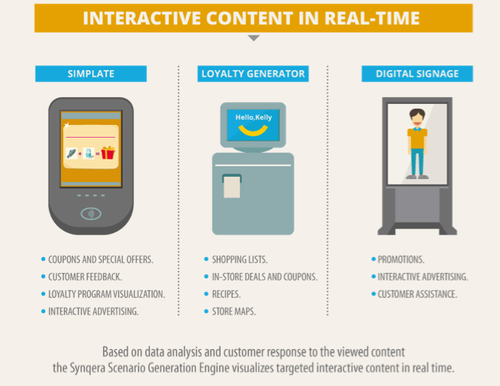 One promotion does not fit all, and the company maintains that knowing a customer's history and buying preferences can help retailers tailor promotions and increase the odds of making a sale.
The company considers facial recognition an important part of the process. Say a customer isnít smiling. The system can access her purchase history and suggest an appropriate purchase as a pick-me-up, possibly with a special deal on the item. Another possible tailored response is "a funny picture on the checkout screen."
A recent Guardian article stated, ďToday's shoppers crave personalization -- they want to feel as though the shopping experience has been created with them in mind. For that reason, video should feature a call to action that prompts shoppers to give their personal details.Ē
But is a blanket statement like that really accurate? The Guardian article cites a 2012 Accenture study, claiming the study "found that 49% of consumers in the U.S. and U.K. are happy to offer data in return for a relevant shopping experience, so stores should use video to prompt signing up for membership, a loyalty card or a mailing list."
What the study actually states is that 49 percent of consumers in the US and UK "are receptive to their favorite stores or brands using their tracking data to inform their future purchases and make them aware of product availability." That's not quite the same thing, is it? And one way or another, the reality is that stores still need to be sensitive to the privacy concerns of the other 51 percent.
Ekaterina Savchenko, Head of Marketing of Synqera, tried to address those concerns in an email interview. She told me that Synqera doesnít handle customer data, which remains in the hands of the retailer, and that customers have to opt in to allow the retailer to access the personal data from their loyalty cards. She explained:
No card -- no personal data. We may still see the facial expression and predict gender and approx(imate) age of the customer through the device's cameras and use it like triggers for content targeting -- equal to the data on the weather forecast in the moment of purchase -- but we never match this data with customer personal details. Please note that online stores do the same for years: (they) target ads based on the demographics and shopping history of the customer.
Savchenko confirmed that customers have to opt-in to participate in the solution's email, text, and mobile app functions.
While in-store facial recognition may make some people feel creepy -- as if they are being stalked -- itís not all that different from training a salesperson to pay attention to a customerís taste and the physical cues of her behavior for a personalized sales pitch. If youíre the kind of person who likes to be greeted by name and offered something that your history indicates you would like, then you may not mind personalized communication on a computer screen. In time, the practice may become as common as those ubiquitous purchase suggestions from Amazon.
Do personalized offers make you smile? Or do you value privacy over customized shopping experiences?