Having previously
written
about using analytics to improve education, I know it's a topic that's important to many readers here on All Analytics. But I don't believe facial recognition analytics has ever entered our conversation… until now.
Today I'm bringing you news about SensoStar Labs, which believes that, yes, facial recognition can be used to improve education. It's created the technology, called EngageSense, to make that happen. EngageSense works by analyzing the facial expressions and eye movements of individual students to see if they're engaged in the lesson or have their minds elsewhere. An analysis of that would let teachers know what's working and what isn't in their lessons.
In an email interview, I chatted with SensorStar co-founder Sean Montgomery, who is also an engineer and adjunct instructor at New York University, about the benefits he sees for his technology and the concerns over student privacy and the Orwellian feeling suggested by cameras in the classroom. With respect to benefit, Montgomery said it's a matter not just of recording but of efficiently extracting the key data through technology:
The idea of using cameras in classrooms to improve teaching is not a new one, and in fact many classrooms now record lesson plans for teachers to review after the fact and improve their lessons. But this means doing double time, so that for every hour of teaching, there is an hour video to review.
EngageSense makes it possible to extract the essential points without spending the same amount of time in reviewing the reaction to the class. The algorithms point to the "portions of a lesson in which students were particularly engaged or losing interest." It's not limited to a single class but shows "changes over class periods, weeks, or even whole semesters," giving the teacher feedback on progress.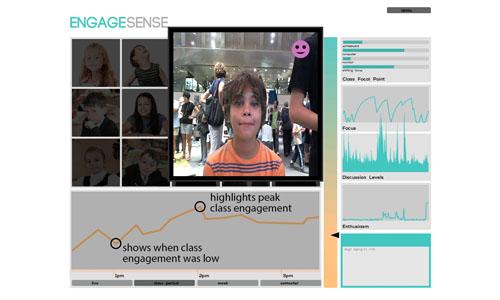 The same kind of feedback can be used "as a tool for students to learn how to learn better," Montgomery said. As EngageSense can make students aware of their own reactions, students with attention and affect disorders can benefit from its insight to work on "how they engage and review material in the context of their own learning style to make the most of their education."
On the question of privacy, he said EngageSense can be anonymized for more general feedback that's not linked to particular students. He suggested individuals consider the potential benefits weighed against their own privacy concerns, the same way they have to consider what they hope to gain out of using an app that picks up on their data.
Some individuals may decide to let the teacher use anonymous engagement statistics to improve their teaching. Others may see the value of giving the teacher full data access so that they can get more personalized assistance. Others still may opt out entirely.
Speaking for himself, Montgomery said he'd consider the benefit of a full personal data review worthwhile for his own child. Plus, anything EngageSense would record would already have been done in front of that teacher live.
As for those who bring up 1984, he acknowledged that people do have valid privacy concerns but said that dropping terms like that does not really help clarify the real issues at hand:
The 1984-type comments about EngageSense in particular are possibly a tad ironic, given that these comments are often made on corporate websites whose purpose is to track as much as possible about you and make a profit selling your data to advertisers. That aside, I think people are justifiably nervous as we enter into a future where privacy and data ownership is likely to be understood very differently than it is today. It's my hope that people will take the public discourse about privacy seriously and move the beyond 1984 doomsday comments into a more nuanced discussion about controlling access to your own data and giving the individual the right to trade data for service.
What do you think? Would you support cameras in the classroom toward the end of improving the educational experience of students?
Related posts: