Fitting the device to the body, rather than the body to the device, is what defines the technology developed by
MC10
.
This privately held company partners with well known brands, like Reebok, to bring its technology into the consumer space. I spoke with Elyse Winer, manager of marketing and communications at MC10, about the companyís innovative products.
These sensors can be woven into clothing, for example, so they can go places where wearables simply can't.
Winer explained that while "high functioning design" usually translates into sensors encased in rigid plastic, biosensor technology really calls for something "soft and pliable," so it interfaces with the body seamlessly and unobtrusively. Itís not just a matter of comfort and convenience but of accuracy and privacy.
"Itís only when you make it truly wearable, comfortable, virtually invisible, and seamless that you get data thatís truly accurate," she told me.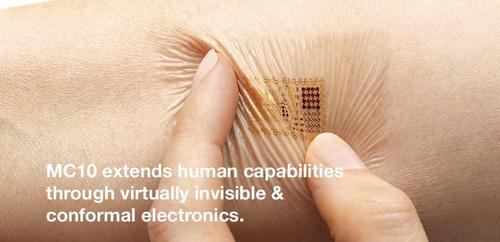 Wearable devices that are bulky or disruptive are apt to be removed, says Winer, and that renders the data they collect less than comprehensive. Soft sensors can go anywhere on the body, which enables them to pick up precise information, say, about movement around the elbow or knee, rather than just picking up general signals.
A product that is really comfortable and easy to wear is also ideal for the very old or very young, who may not always be able to speak for themselves. Wireless communication from the sensor can issue alerts and updates to family and caregivers.
For those who monitor themselves, such a device offers the benefit of privacy. While sensors like FitBit may be worn proudly as an emblem of dedication to health and fitness, those who need monitoring for an illness often do not want to advertise their condition to the world or even to be reminded of it themselves every time they see something on their wrist.
Instead, they can be monitored through a BioStamp, a sensor that can be fitted into clothing or applied directly on the body like a temporary tattoo. BioStamp will launch later this year, in fact.
Each sensor is powered by thin-film batteries and connected wirelessly to a receiving device that offers ďsimple and usableĒ insight based on the algorithm set for the particular sensor.
Vital monitors
The Checklight wearable for athletes, which MC10 brought out in partnership with Reebok last summer, has a simple color system, showing a yellow light for moderate impact and a red light for severe impact to alert players and coaches if medical attention is warranted.
Users can also set up customizable reports that will send more detailed information to doctors, though actual medical applications do require FDA approval.
Looking toward the future, MC10 is currently pursuing partners in healthcare for medical applications. One area in which it may prove very helpful is in monitoring movement disorders like Parkinsonís. Currently, caregivers track tremors by keeping a log manually. The sensor would collect data seamlessly, which ought to yield better, more accurate results. Beyond that, MC10 even aspires to "closing the loop" between monitoring and treatment, Winer says, with sensors that will be able to deliver medication.
However, as we said, such products do require regulatory approval and years of testing, so donít expect to see them in the immediate future. What you can expect to see this year is the BioStamp sensor, brought out with a partner in the consumer space.
What do you think, members, will sensors like these render FitBits and other wearables obsolete?
Related posts: