Even if the only business you ever ran was a lemonade stand, you know it takes money to make money. But it also takes money to save money -- an especially important lesson when it comes to technology.
In fact, according to the non-profit, educational organization American Council for Technology (ACT), the US government could trim the budget deficit by $220 billion a year with effective use of information technology. The details are spelled out in a November 2012 report entitled "Unleashing the Power of Information Technology to Reduce the Budget Deficit."
ACT, in conjunction with the Industry Advisory Council (IAC), recommends government agencies increase investment in data analytics, technology to increase productivity, and other technological solutions to reduce waste, fraud, and abuse. It concludes the potential savings will far outweigh the $80 billion a year the federal government currently invests in technology.
By way of background, ACT was created in 1979 to improve government through the efficient and innovative application of IT. A decade later, ACT established the IAC to bring industry and government executives together to collaborate on IT issues of interest to the government.
The report concludes that investment in IT innovations is the best way for federal agencies to continue to deliver essential services at reasonable costs. Specifically, it makes three recommendations:
Accelerate the use of data analytics to identify opportunities to reduce government costs. "Gathering and analyzing data from a variety of internal and external sources can help determine performance and outcomes for federal programs," the report notes.


Invest in technology to increase productivity and reduce costs. "The federal government has the opportunity to accomplish its missions in a cost effective manner while providing the citizenry with expected levels of service by strategically using IT as a part of the solution."


Use technology to combat fraud, waste, and abuse. "The federal government is in a unique position to strategically apply IT investments to reduce federal outlays and the federal deficit. Further, IT investments typically result in many ancillary benefits, such as providing jobs and much needed tax revenue."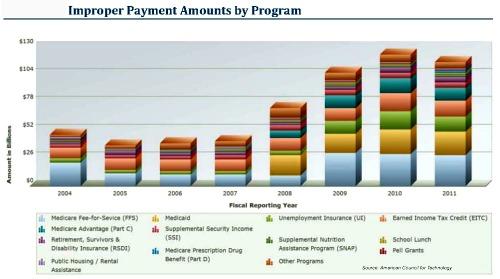 Although the government has reduced the amount of "improper payments" in recent years, we still waste a lot of tax dollars -- about $115 billion in fiscal year 2011. In that period, federal agencies reported a government-wide improper payment rate of 4.69 percent, a decrease from the 5.3 percent improper payment rate reported a year earlier, government data shows.
"Improper payments" occur when:
funds go to the wrong recipient
the right recipient receives the incorrect amount of funds (including overpayments and underpayments)
documentation is not available to support a payment
the recipient uses funds in an improper manner.
One of the key recommendations in the report is for the federal government to establish "analytical shared centers of excellence (COE) focused on enterprise-level operations to reduce fraud, waste, and abuse and strengthen program integrity."
These COEs, whether dedicated to an agency, or shared among agencies, will enable sophisticated modeling and simulation of historical data, e.g., to identify anomalous thresholds based on multivariate factor analysis, disparate data fusion to include advanced geospatial analytics, testing of new means, methods, and tools, etc. Further, the COEs can develop more sophisticated rule systems (rather than simple filters) to screen incoming entities and outgoing transactions with acceptable false positive rates.
As data professionals, how do you feel about these recommendations? Do you believe investment in IT solutions, specifically analytics, can help bridge the gap between smaller budgets and essential services?