NEW YORK CITY -- The National Retail Federation is having its annual four-day gathering here this week, and analytics seem to be the key to a persistently challenging consumer environment.
Of course, you don't actually hear the word "analytics" all that much at the NRF's 102nd Annual Convention and Expo -- a.k.a. Retail's BIG Show. Rather, you hear constant, indirect references to the insight and advantages that data creates through words like personalization, intimacy, and consumer engagement.
That message permeated Sunday's keynote sessions, during which speakers like Mindy Grossman, CEO of HSN, and Joseph Magnacca, president of daily living products and solutions at Walgreens, described data as essential parts of their operations.
"We don't just use data for numbers. We use it to connect with our customers and create intimacy with them," Grossman said. Magnacca added: "It's about using technology to our advantage."
Grossman and Magnacca were part of a panel discussion about creating meaningful innovation and consumer engagement that deliver results. The discussion was part of a keynote session titled "Coca-Cola Opens Happiness for Consumers and Retailers," which focused on creating relevant passion points with consumers and driving brand loyalty and product growth.
Big-data is giving retailers unprecedented information and insights about their consumers -- and everyone from officers of Fortune 500 companies to owners of single-location retail stores seem eager to take advantage of it. In fact, it's the reason many of the attendees said they took the time to attend.
In informal conversations at the show yesterday with more than a dozen people representing retailers of all sizes, the consensus was that data is the differentiater for successful stores.
The BIG Show, which runs through tomorrow at the Jacob Javits Convention Center, will draw an estimated 27,000 attendees from every US state and 70 countries. In addition to a host of big-name speakers, the show features more than five football fields of exhibit space filled with products from more than 500 exhibitors, including SAS, this site's sponsor.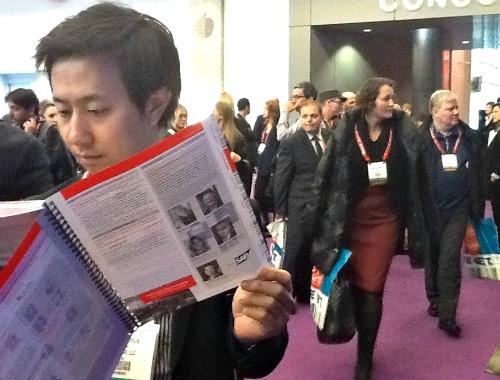 The BIG Show is a big production. The first Sunday morning keynote was preceded by an elaborate performance by a troupe of broadway dancers. High-energy music blared during gaps in the program, and virtually every speaker dripped with enthusiasm.
But you have to look beyond the hype and the crowds to understand what this show means to the retail industry. In the wake of what by all accounts was yet another weak holiday shopping season, retailers seem to understand that creative and innovative solutions are essential to their survival.
Times have been tough for the retail sector for more than a few years -- and there is little hope for a rapid turnaround. During the BIG Show last year, for instance, former President Bill Clinton warned in a keynote address that it could take five to 10 years for the economy to recover.
The NRF has already warned that the pace of the US recovery is slowing, with the economy growing at an annual rate of 1.7 percent during the first half of 2012, down from the 2.2 percent annual average seen since the recession ended in 2009. While housing sales are up, concerns lingered in the second half of the year about employment, income growth, and the "fiscal cliff" of tax increases and federal spending cuts.
No wonder retailers want to take advantage of every solution they can to predict, analyze, and drive engagement with their customers. Attendees didn't come to this retail party to celebrate.
They're attending to try to understand the changing role of retail stores, as well as to stay a step ahead of what they acknowledge to be smarter, more demanding consumers. At the very least, they want to keep pace with changing consumer demands.
Companies like SAS believe big-data, coupled with high-performance analytics, can help retail companies tailor their offerings in a way that's beneficial to the company's bottom line as well as the consumer. What do you think?