All Analytics readers like data visualizations -- even though slightly more than 50 percent of the participants in our recent
quick poll
conceded "the quality is inconsistent."
While none of the 65 respondents explained exactly what they meant by that inconsistency, it's easy to surmise.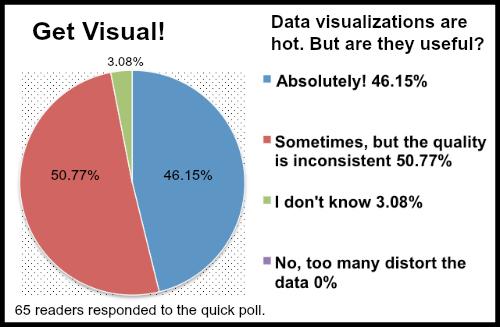 And I don't think I can state it any better than Ryan Bell, a user interface developer for EffectiveUI, a digital user experience agency:
As available data becomes more complex and extensive, weaving it into a visualization that invites engagement, understanding, and decision-making is a bigger challenge, with a bigger opportunity for payoff.
Bigger opportunities for payoff -- but, in the wrong hands, those turn into greater opportunities for misinterpretation, especially when we expand the term "data visualizations" to include infographics.
There are so many infographics these days, and so many of them are cluttered, confusing, and, unfortunately, wrong.
Remember that infographic Dylan Matthews at The Washington Post published last month under the headline, "The saddest graph you'll see today"?
The infographic was created by the Enliven Project to put the legal issues around rape, its prosecutions, and concerns about false accusations into perspective. The idea was to visualize the fact that false rape accusations are rare. But critics claim the infographic was misleading in several ways because it assumed one-rape-per-rapist, overestimated the number of unreported rapes, and overestimated the number of false accusations.
Good intentions can get lost pretty easily in a bad data visualization.
Effective data visualizations marry art and science. They transform complete and accurate data with sound visual design elements, like line, form, shape, value, and color. But to do that, and create a visualization that keeps the data in the right context, the graphic artist has to understand the information being visualized.
It's all about the data. As David McCandless, a London-based independent data journalist and information designer, explains, the key to a great data visualization is "good, tight, and comprehensive" data. "The technical term for that is 'juicy.' Juicy data. In fact, 80 percent of the work involved in creating an infographic is data-gathering, shaping, and checking. Making the data juicy," he states.
So, here is the question: How can data professionals and graphic artists work better together to bring data to life -- beautifully, effectively, and without distortion?